FC "TSK-Tavriya"Simferopol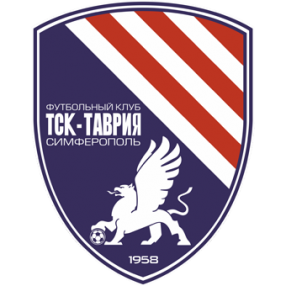 Historical note
The club was founded in 2014 after the reunion of the Crimea with Russian Federation. The team from Simferopol took part in Russian Football Championship (Second League, zone "South", Group 1) as well as several Crimean clubs. Team took 5th place at the summer-autumn part of the tournament among 11 teams. However, after the appeal of the Ukrainian Football Federation to UEFA, Crimean clubs were prohibited from playing in the Russian championship. Later, UEFA established the Crimean football union (with special status), which organized the CFU Premier League draw. Today the team from Simferopol, which became known as "TSK-Tavriya", also takes part in this tournament.
In May 2016, "TSK-Tavriya" became an early winner of the first CFU Premier League championship, and in August of the same year it became the winner of the CFU Supercup, beating CFU-Bakhchysaray with a score 2:0.
In August 2019, "TSK-Tavria" also became the winner of the CFU Supercup, beating FC "Sevastopol" in the penalty shootout 7:6.
Season statistic
Wins(Total / percent of the played matches)
Wins(Total / percent of the played matches)
3 100.00%
0 0.00%
3 100.00%
Drawn(Total / percent of the played matches)
Drawn(Total / percent of the played matches)
Defeat(Total / percent of the played matches)
Defeat(Total / percent of the played matches)
Goals for(including penalty)
Goals for(including penalty)
Goals against(including penalty)
Goals against(including penalty)
Red cards(including repeated caution)
Red cards(including repeated caution)
Total attendance(Total / percent of attendance of all season matches)
Total attendance(Total / percent of attendance of all season matches)
1 850 57.81%
0 0.00%
1 850 57.81%
G - number of games (including in starting lineup),
GF - number of goals for (including penalty),
GA - number of goals against (including penalty),
UP - Number of unconverted penalties,
OG - number of scored own goals,
YC - number of yellow cards,
RC - number of red cards (including repeated caution),
Min. - number of minutes spent at the field