ChFC "Sevastopol" – the winner of the summer tournament "Arena Yevpatoria Cup" (PHOTO)
August 10, 2017 / 14:54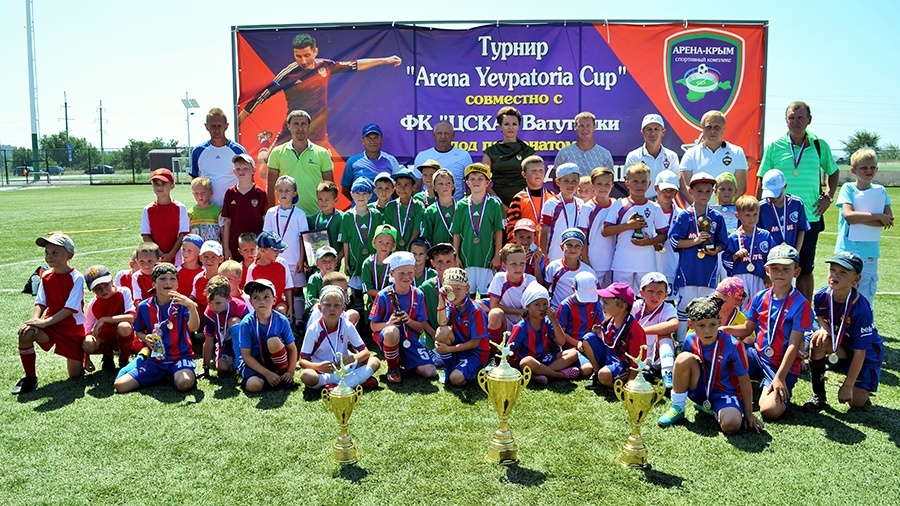 The two-day summer tournament "Arena Yevpatoria Cup" was held at the fields of the sports complex "Arena-Crimea" in Yevpatoriya city from 8 to 9 August, 2017, where took part 6 teams among the children of the 2010 year of birth. At the tournament fought for the victory the Children and youth`s sports school "Yevpatoriya", FC CSKA and FC CSKA-2 (Vatutinki settlement, Moscow), ChFC "Sevastopol", FC "Tyumen" (Simferopol city) and the Sports school "Saki".
Children Football Center "Sevastopol" won the tournament according to the results of the competition, who managed to score 41 goals in five games and missed only three times. Silver medals won FC CSKA (CSKA lost to Sevastopol only on the goal difference), the third place got the wards of the Children and Youth`s Sports School "Yevpatoriya".
Iurii Vetokha, President of the Crimean football union:
"Children football school of Moscow CSKA Moscow is conducting its training session not the first time in the Crimea. There are 40 children of 2009-2011 year of births at the training session in Yevpatoriya city at the moment, and therefore they put two teams for the tournament. We were wonder to compare the Young Crimean football players level with wards of one of the top children and youth`s football schools of Russia, and 4 Crimean teams immediately responded to the tournament despite the summer period.
As it turned out the lot brought two of the strongest teams of the tournament in the first match – ChFC "Sevastopol" and CSKA. I can confidently say that the Sevastopol boys were as good as their rivals, and the CSKA team was in the role of "lagging" during the match (the match ended in a draw – 3:3).
I note that after the tournament two players from Simferopol and Sevastopol received an offer to move to the Children and Youth`s Sports School CSKA. This points to the fact that there are football talents in the Crimea, they need to be developed and paid more attention to them. The summer tournament "Arena Yevpatoria Cup" was held for the first time and now will be an annual one."