FC "Sevastopol" became the winner of the CFU Premier League – 20/21 in five tours before the finish!
May 17, 2021 / 15:11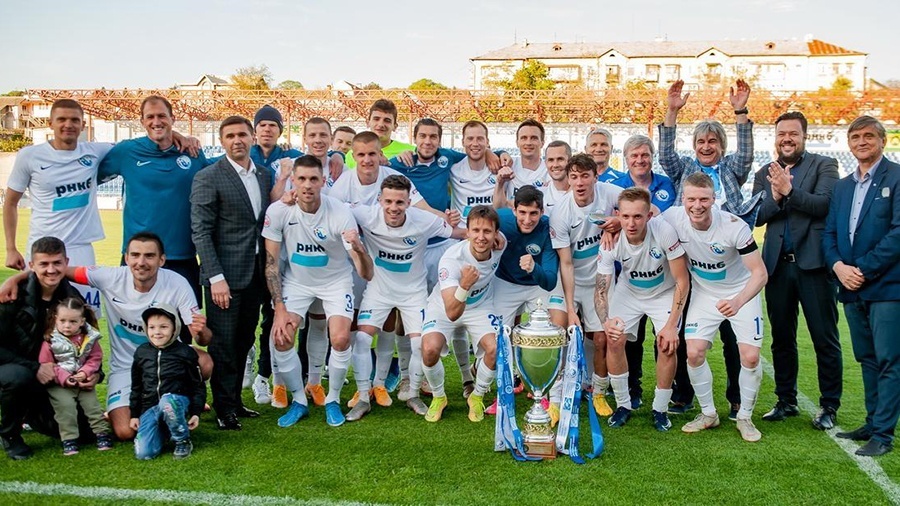 The matches of the 23rd tour of the Crimean football union Premier League championship, season -2020/21 were in Crimea on Mat 12-13.
"TSK-Tavriya", Simferopol won from "Krymteplitsa", Molodezhnoe in home match on Wednesday, May 12. Simferopol opened the score in the 14th minute after the goal made by Aleksey Kontsedalov. Kirill Klysha doubled the advantage of metropolitan team in the 50th minute. "Teplitsa" found it beyond their strength to equalize the score despite the lag in two balls. The attack of Molodezhnoe ended by an own goal of Arsen Abliametov in the 57th minute, and Sergey Gafarov restore a balance in the 79th minute. But "Krymteplitsa" couldn't to hold a draw. Anton Monakhov brought the win to "TSK-Tavriya" in the 4th injury minute – 3:2. Let us note, that "Krymteplitsa" is fourth defeated in a row.
Three more matches were played on Thursday, May 13.
"Favorit-VD Kafa", Feodosiya lost again. "Ocean", Kerch became the offender of Feodosiya for this time. Boris Gogichaishvili brought Kerch ahead in the debut of first half, had converted a penalty. Feodosiya won back in the beginning of the second half – Efim Zolotarev distinguished himself. Further, three more goals were on the goal of Feodosiya. Roman Razzhivin (61st minute), Azat Zakaev (79th) and Aleksey Kurilov (89th) scored in the line-up of "Ocean". As result 4:1 – win of the team from Kerch.
FC "Yevpatoriya" won from away team "Kyzyltash", Bakhchysaray at native walls – 2:0. Dliaver Nuritdinov distinguished himself by a double in this duel (30th and 78th minutes). Yevpatoriya continues to fight for prize places, and "Kyzyltash" let go "Ocean" in five points already.
FC "Sevastopol" achieved minimally win in the game with "Gvardeets", Skvortsovo at own field – 1:0. Vitaliy Mironenko scored one single ball in this meeting in the 49th minute. Thanks to this win, Sevastopol became unapproachably for opponents in five tours before the end and provided to itself golden medals of the CFU Premier League championship, season 2020/21! The Crimean football union president mr Iurii Vetokha awarded to the football plyers of "Sevastopol" champion's cup right after the match end.
The matches of the 24th tour of the CFU Premier League will be on May 23. There will play: "Kyzyltash" – "TSK-Tavriya", "Gvardeets" – "Favorit-VD Kafa", "Ocean" – "Yevpatoriya" and "Krymteplitsa" – "Sevastopol".