"Fidel" from Simferopol is in the lead of the futsal Second division final tournament of the "Arsenal League of Crimea"
May 9, 2017 / 10:01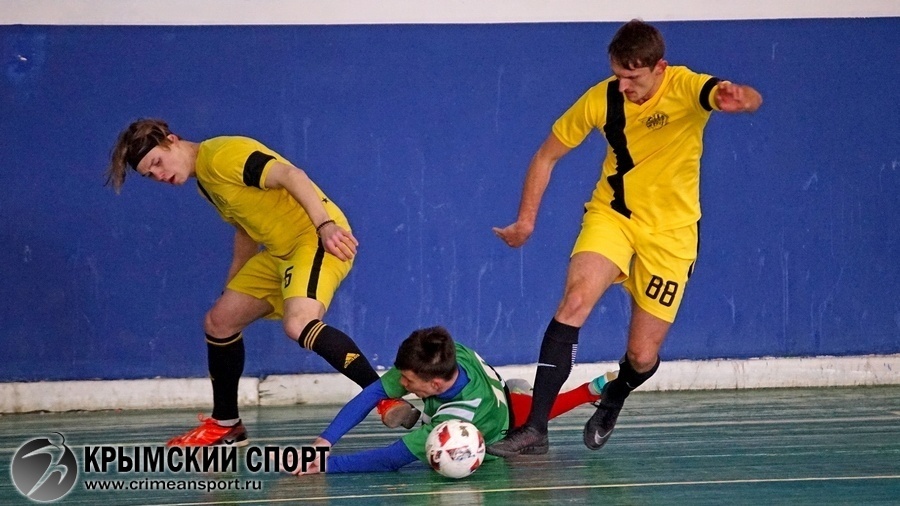 Photo: Макс Наплёков
Six final rounds of the futsal Second division of the "Arsenal League of Crimea" came to an end on Saturday, May 6.
To the solely tournament leaders came the metropolitan team "Palagris".
The Second league. Final round
"Oniks-2" - MES (Ministry of Emergency Situations) – 2:0
Goals: Gnatovskiy, 8, Chernetskiy, 38.
The second line-up of "Oniks" celebrated the victory over the MES team after scored goals in each half-time.
"Fidel" – MES – 3:2
Goals: Dmitriy Litvinenko, 13, Rustem Dzhemilev, 18, Ostapenko, 24 – Murchich, 14, 25.
The "Rescuers" also gave up in their second match on a day. The score is minimal but it doesn`t make it any better for the Sergey Averin team.
"Inter-Frutmotiv" - "Neapol Skifskiy" (Naples Scythian)- 4:2
Goals: Lebedovskiy, 12, Bondaletov, 19, 40, Demin, 24 – Skibitskiy, 4, Litvinchuk, 11.
Beautifil match turned out! After the First half – drow 2: 2. Roman Demin brought Sevastopol`s team in ahead position at the Second half. "Neapol" team tried to win back, substituted the goalkeeper by the fifth outfield player, but at the nick of time missed kick to the open goal.
"Palagris" – "Oniks-2" – 4:3
Goals: Marushchak, 5, 32, 36, Gertsen, 28 – Sunitskiy, 6, Unanian, 26, Chernetskiy, 37.
At this game was turbulent passions until the final whistle. "Palagris" managed to keep the minimal advantage earned by the hat-trick of Aleksander Marushchak.
"Inter-Frutmotiv" – "Fidel" – 6:6
Goals: Demin, 4, 19, 39, Iashchenko, 13, Dukhevich, 28, Tsiurukalo, 33 – Dmitry Litvinenko, 2, 26, 36, Ostapenko, 11, Trutaev, 22, Sechin, 28.
And this duel meet – at all an adornment of the match day. "Skirmish" throughout the meeting did not show a winner. One cannot say as usual at such case "winning isn`t everything", cause both teams left on the pitch too much emotion.
"Neapol Skifskiy" – "Palagris" – 2:3
Goals: Skibitskiy, 5, Dmitrovskiy, 8 – Marushchak, 8, Gertsen, 11, 39.
The second victory of "Palagris" for the day, and again very difficult. Anton Gertsen brought it to his team literally "on the flags".
The teams position (all conducted for 3 games): "Fidel" – 7 points, "Palagris" – 6, "Inter-Frutmotiv" - 4, MES, "Neapol Skifskiy" and "Oniks-2" - 3 (3).