FC "Rubin Yalta"Yalta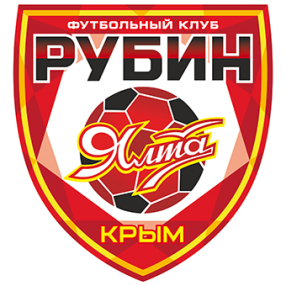 Historical note
FC "Rubin", Yalta city was founded for participation in the championship of amateur teams of Yalta city in 2009.
"Rubin" took part in All-Crimean tournament on football sins April to June 2015, where held fourth place in group "B".
FC "Rubin" played in the Crimean football union Premier League championship among teams of football clubs sins August 2015 to June 2018.
Autonomous non-commercial organization "Football club "RUBIN YALTA", Yalta city was registered on 07/05/2019.
FC "RUDIN YALTA", Yalta city, became the winner of the Open Crimean Republic Championship among amateur men teams – 2020-2021.
Season statistic
Wins(Total / percent of the played matches)
Wins(Total / percent of the played matches)
Drawn(Total / percent of the played matches)
Drawn(Total / percent of the played matches)
Defeat(Total / percent of the played matches)
Defeat(Total / percent of the played matches)
Goals for(including penalty)
Goals for(including penalty)
Goals against(including penalty)
Goals against(including penalty)
Red cards(including repeated caution)
Red cards(including repeated caution)
Total attendance(Total / percent of attendance of all season matches)
Total attendance(Total / percent of attendance of all season matches)
2 400 75.00%
2 150 67.19%
250 7.81%
G - number of games (including in starting lineup),
GF - number of goals for (including penalty),
GA - number of goals against (including penalty),
UP - Number of unconverted penalties,
OG - number of scored own goals,
YC - number of yellow cards,
RC - number of red cards (including repeated caution),
Min. - number of minutes spent at the field