FC "Yevpatoriya"Yevpatoriya
President
Aleksandr Iatsun
Head coach
Aleksey Grachev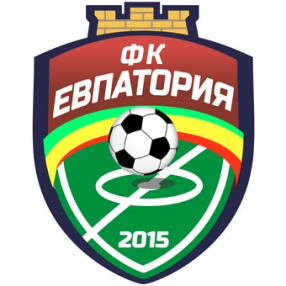 Historical note
Football club "Yevpatoriya" was founded in February 2015.
Club gain a status of professional and Certificate to participate at the Crimean football union Premier-League Championship in August 2015.
Achievements
– Winner of the CFU Cup 2016/17;
– Bronze medalist of the CFU Premier-League Championship 2016/17;
– Crimean Football Union Premier-League Champion 2017/18.
Management and officials
PresidentAleksandrIatsun
AdministratorAndreyMukhin
Senior health inspectorSergeyGorodetskiy
Health inspectorEdemBelialov
Security specialistMaksimTokarev
Press service specialistRuslanChernyshev
Coaching staff
Head coachAlekseyGrachev
CoachAndreyTarakhtiy
Season statistic
Wins(Total / percent of the played matches)
Wins(Total / percent of the played matches)
16 84.21%
8 42.11%
8 42.11%
Drawn(Total / percent of the played matches)
Drawn(Total / percent of the played matches)
Defeat(Total / percent of the played matches)
Defeat(Total / percent of the played matches)
Goals for(including penalty)
Goals for(including penalty)
Goals against(including penalty)
Goals against(including penalty)
Red cards(including repeated caution)
Red cards(including repeated caution)
Total attendance(Total / percent of attendance of all season matches)
Total attendance(Total / percent of attendance of all season matches)
7 665 24.90%
3 880 12.61%
3 785 12.30%
Tournament table motion
place
tour
1
2
3
4
5
6
7
8
9
10
11
12
13
14
15
16
17
18
19
20
21
22
23
24
25
26
27
28
1
1
1
1
1
1
1
1
1
1
1
2
2
2
2
2
2
2
2
3
3
3
4
5
6
7
8
G - number of games (including in starting lineup),
GF - number of goals for (including penalty),
GA - number of goals against (including penalty),
UP - Number of unconverted penalties,
OG - number of scored own goals,
YC - number of yellow cards,
RC - number of red cards (including repeated caution),
Min. - number of minutes spent at the field