FC "Kyzyltash" (Bakhchysaray) – FC "Aluston-SCC" (Alushta) – 5:2. Protocols data
June 8, 2022 / 20:00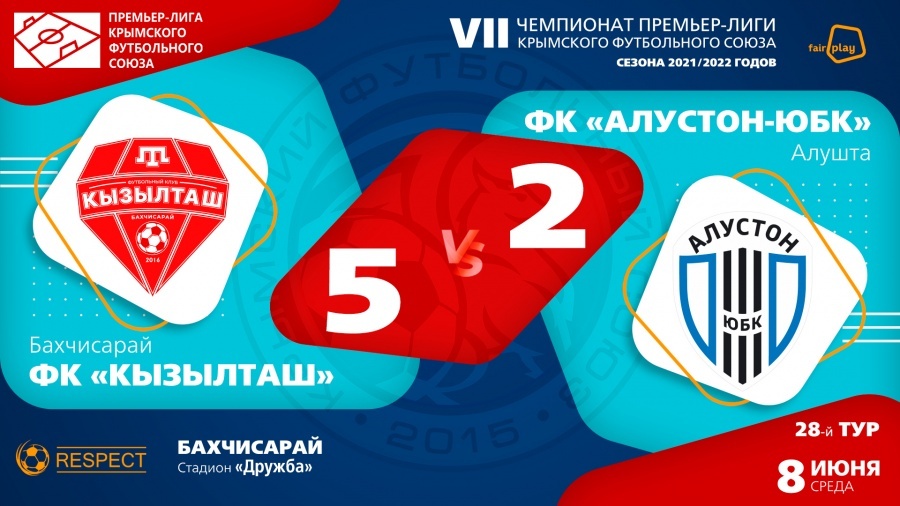 June 8, 2022. Bakhchysaray. Stadium "Druzhba". 100 supporters. Pitch quality – 3. Crimean football union Premier-League Championship (season 2021/22). 28th tour
FC "Kyzyltash" (Bakhchysaray) – FC "Aluston-SCC" (Alushta) – 5:2
FC "Kyzyltash": Ramzan Mutuskhanov, Maksim Tarasenko, Vladimir Iatsuk, Dmitriy Popovich, Dmitriy Zelenkevich, Dmitriy Khodarchenko, Aleksandr Muzyka, Aleksandr Rybolovlev, Vyacheslav Purak, Denis Sitnikov, Anton Altunin.
Head coach – Aleksey Grachev.
FC "Aluston-SCC": Mukharbek Buraev, Akhiad Garisultanov, Andrey Veselov, Ivan Strelov, Akhmed Abubakarov, Georgiy Berezov, Alisher Mirzoev, Roman Bolshunov (Viktor Goltsov, 46), Aleksey Fedichev (Aleksandr Kurchavy, 64), Ismail Mataev, Ilia Pshenichnikov (Dmitriy Belov, 53).
Head coach – Oleg Kolesov.
Goals: Vladimir Iatsuk, 48, Aleksandr Rybolovlev, 53, 90+3, Vyacheslav Purak, 62, 67 – Alisher Mirzoev, 9, Ismail Mataev, 11.
Yellow cards: Dmitriy Khodarchenko, 29, Dmitriy Zelenkevich, 32, Vyacheslav Purak, 78, Aleksandr Rybolovlev, 84, Igor Buriak, 90+4 (out of the field) – Alisher Mirzoev, 43.
Red cards: Akhiad Garisultanov, 84, Georgiy Berezov (after match).
Referee – Andrey Ganzheliuk (Kerch).