FC "Rubin Yalta" – FC "Ocean" (Kerch) – 3:1. Protocols data
November 20, 2022 / 17:06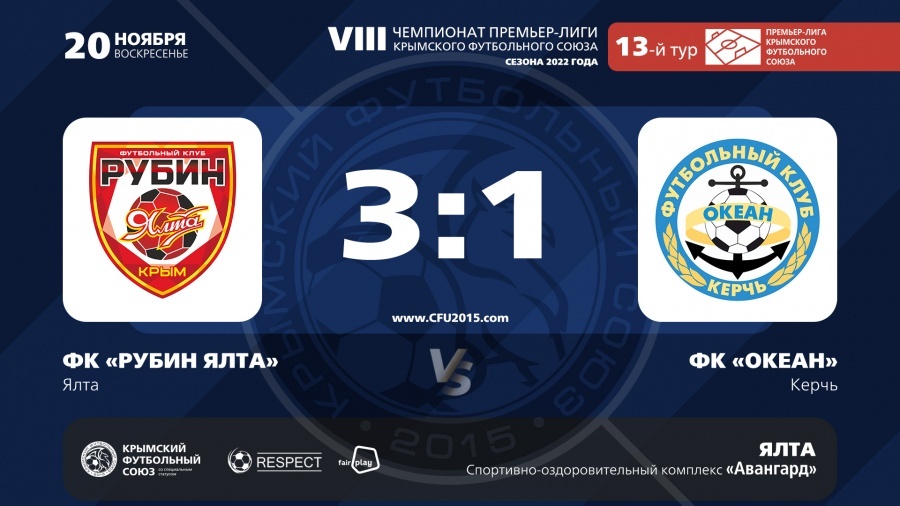 November 20, 2022. Yalta. SHC "Avangard". 500 supporters. Pitch quality – 5. Crimean football union Premier-League Championship (season 2022). 13th tour
FC "Rubin Yalta" – FC "Ocean" (Kerch) – 3:1
FC "Rubin Yalta": Valentin Maniakin, Arsentiy Anufrienko, Vladimir Pshenichnikov, Dmitriy Popovich, Shakhzodbek Alakulov (Denis Sitnikov, 6; Ilia Zinchenko, 60), Rostislav Romanenko, Ruslan Margiev, Nikita Filatov (Dmitriy Khodarchenko, 81), Vladimir Vomenko, Denis Malyshev (Valeriy Dzen, 70), Aleksey Babyr (Anton Pencheliuzov, 86).
Head coach – Aleksey Grachev.
FC "Ocean": Vladislav Krainov, Konstantin Antonets, Roman Barabashov, Egor Makarov, Dmitrii Dmitruk (Aleksey Sosnovskiy, 57), Azat Zakaev, Roman Parfinovich, Ernes Godzhen, Alan Khugaev (Seiran Gafarov, 65), Vladimir Iatsuk, Amaiak Apozian.
Head coach – Oleg Leshchinskiy.
Goals: Denis Malyshev, 3, 61, Vladimir Vomenko, 33 – Egor Makarov, 45+1.
Yellow cards: Igor Buriak, 90+4 (out of the field) – Alan Khugaev, 41, Konstantin Antonets, 61.
Referee – Mikhail Verikovskii (Simferopol).