The VI CFU Premier League championship will be ended by the matches of the 28th tour on June 13
June 11, 2021 / 15:01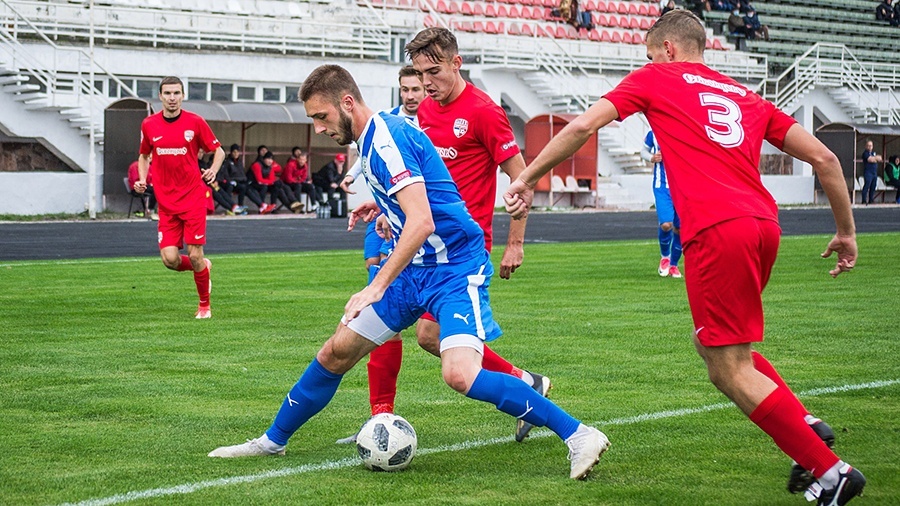 Photo: пресс-служба ФК "Океан"
The matches of the final 28th tour of the Crimean football union Premier League championship, season -2020/21 will be on the peninsular on Sunday, June 13.
They will be played in Simferopol (2 matches), Sevastopol and Bakhchysaray district. All duels will start at the same time – 18 o'clock.
The fight for silver and bronze awards of the championship has escalate in one tour before the championship ends., three teams are claiming on it: "Krymteplitsa", "Gvardeets" and "Yevpatoriya".
"Krymteplitsa", Molodezhnoe will play with FC "Yevpatoriya" in Agrarnoe urban type settlement, Simferopol. Yevpatoriya needs only victory in this opposition, to claim for silver or bronze medals. But "Teplitsa" can not to lose in this game, because they can finish in final fourth position in case of lose. The match "Krymteplitsa" – "Yevaptoriya" will be on "Krymteplitsa" stadium, and referee Mikhail Verikovskiy from Simferopol will judge the teams.
"Favorit-VD Kafa", Feodosiya will host metropolitan "TSK-Tavriya" on "Fiolent" stadium in Simferopol. This match is irrelevant for both teams. Feodosiya leaves the Premier League, and Simferpol can claim for final fifth place maximum. The game "Favorit-VD Kafa" – "TSK-Tavriya" is entrusted to conduct the referee from Sevastopol Maksim Klim.
FC "Sevastopol" will host "Kyzyltash", Bakhchysaray at own field. This game can not to influence on something: Sevastopol made its third champions' title, and "Kyzyltash" can not to rise higher then seventh place and will play in qualifying matches. The meeting "Sevastopol" – "Kyzyltash" will be on SHC "Sevastopol". The match will be conducted by referees' team led by Aleksey Polianin from Simferopol.
"Gvardeets", Skvortsovo will measure its strength with "Ocean", Kerch at home match. This match is extremely important for the team from Skvortsovo from point of view of medals fighting. And Kerch can finish on the fourth place at the end of the season, but they don't have any global tasks. We must not forget about the winning streak of Kerch, it counts nine games. The meeting "Gvardeets" – "Ocean" will be in Novopavlovka on the field of sports center "Skif". Aleksandr Kreshchik from Saky city is appointed as referee of this match.
All matches of the 28th tour are scheduled to show in live broadcast on the official Crimean football union website.