FC "Gvardeest" (Gvardeiskoe) – FC "Rubin Yalta" – 2:2, by penalty – 4:5. Protocols data
October 18, 2017 / 17:35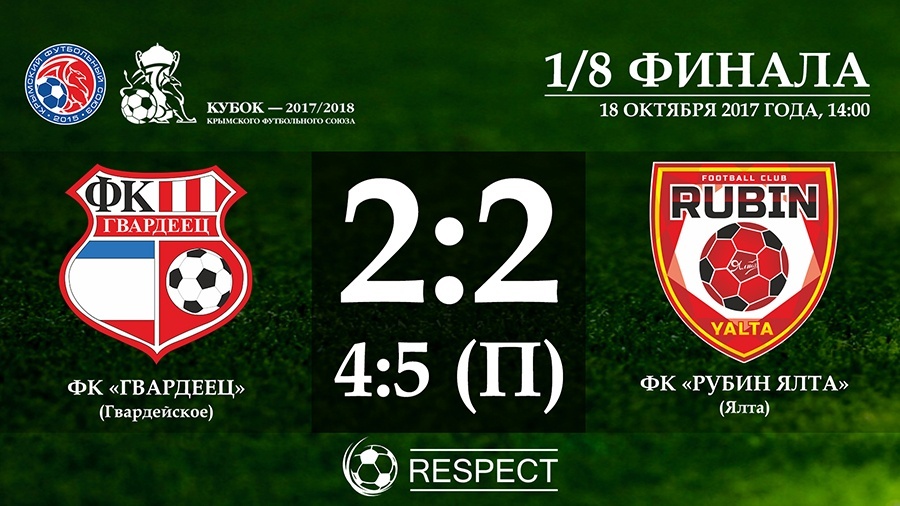 October 18, 2017. Gvardeiskoe. Stadium "Gvardeest". 50 supporters. Pitch quality – 4. Crimean football union Cup (season 2017/18). Round of 16
FC "Gvardeest" (Gvardeiskoe) – FC "Rubin Yalta" – 2:2, by penalty – 4:5
FC "Gvardeest": Aleksandr Stain, Dmitriy Semenov (Evgeniy Belousov, 80), Nikita Mikitas, Aleksandr Goncharenko, Aleksey Iablonskiy, Mikhail Barinov, Valeriy Derebenets, Denis Belik, Egor Poddiachiy, Dmitriy Grachev (Kirill Meilakh, 54), Roman Timchenko.
Chief coach – Vladislav Maltsev.
FC "Rubin Yalta": Oleg Prokoshin (Roman Gorbunov, 118), Aleksandr Dymchenko, Denis Vikhrov, Maksim Mineev, Vadim Griaznov, Alan Tsaritov (Dmitriy Litvinov, 61), Maksim Gusev, Georgiy Berezov, Arsen Muratov, Dmitriy Belevitin (Vsevolod Kashlak, 83), Sergey Dzodziev.
Chief coach – Sergey Lezhentsev.
Goals: Kirill Meilakh, 88, Egor Poddiachiy, 103 – Maksim Mineev, 33, Vsevolod Kashlak, 92.
Yellow cards: Denis Belik, 29, Egor Poddiachiy, 81, Valeriy Derebenets, 110 – Vadim Griaznov, 29, Sergey Dzodziev, 60, Aleksandr Dymchenko, 99.
Red card: Maksim Gusev, 70.
Converted penalties scored after the match: Valeriy Derebenets, Denis Belik, Aleksandr Goncharenko, Egor Poddiachiy – Sergey Dzodziev, Dmitriy Litvinov, Vadim Griaznov, Georgiy Berezov, Maksim Mineev.
Fail from the spot after the match: Mikhail Barinov, Nikita Mikitas – Arsen Muratov.
Referee – Anatoliy Zhabchenko.
Судья – Жабченко Анатолий (Симферополь).