FC "Yevpatoriya" – FC "Krymteplitsa" (Molodezhnoe) – 3:1. Protocols data
May 31, 2017 / 20:15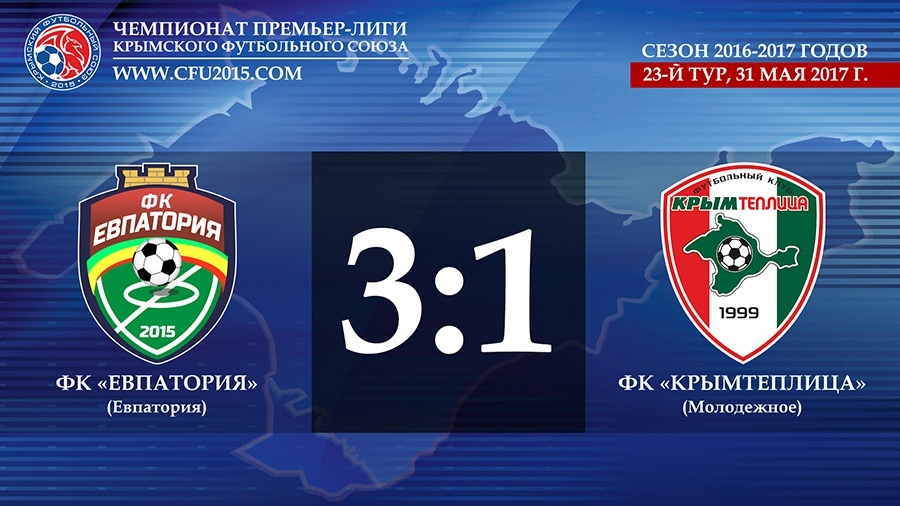 May 31, 2017. Yevpatoriya. SC "Arena-Crimea". 1200 supporters. Pitch quality – 4. Crimean football union Premier-League Championship (season 2016/17). 23rd tour
FC "Yevpatoriya" – FC "Krymteplitsa" (Molodezhnoe) – 3:1
FC "Yevpatoriya": Vitaliy Trotskii, Dmitriy Matvienko, Petr Oparin, Maksim Davidchuk, Zeki Aliev, Ivan Voitenko, Nazim Eiupov (Artem Kultyshev, 86), Vadim Avtaev (Robert Iamlikhanov, 59), Dliaver Nuridinov (Iaroslav Udin, 80), Aleksandr Borshch (Seikhan Aliev, 84), Nikolay Khomich (Evgeniy Kharchenko, 72).
Chief coach – Vladimir Martynov.
FC "Krymteplitsa": Dmitriy Shchendrygin, Sergey Zakharov, Aleksey Tishchenko, Maksim Leshchenko (Ilia Kozhemiakin, 46), Iurii Pantia, Sergey Kucherenko, Andrey Zborovskiy, Sergey Melnik, Lenur Akhunov, Maksim Prikhodnoy (Vladimir Sychevoi, 80), Igor Melnik (Aleksey Boiko, 58).
Chief coach – Vladimir Poshekhontsev.
Goals: Petr Oparin, 9, Dliaver Nuridinov, 40, Nazim Eiupov, 71 – Andrey Zborovskiy, 68.
Yellow cards: Petr Oparin, 82 – Sergey Zakharov, 45+1.
Red card: Stepan Borgun, 80 (out of the field).
Referee – Iurii Volkov (Simferopol).