The CFU Premier League: who will be the winter champion – "Sevastopol" or "TSK-Tavriya"?
November 26, 2021 / 14:20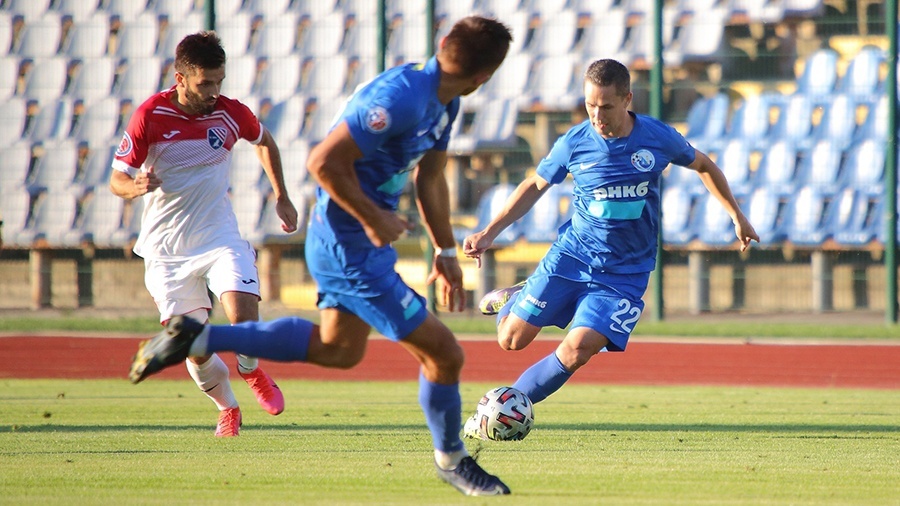 The matches of the 12th tour of the Crimean football union Premier League championship, season -2021/22 will be on Sunday, November 28. The 12th tour will be the finally of the first part of the championship be the will of the calendar, the teams will go to the winter holiday after it. Let us note, that all matches of the tour will start at the same time – 14 o'clock.
Undoubtably, the central match of the tour will be "Crimean derby", where will meet two leaders – FC "Sevastopol" and "TSK-Tavriya", Simferopol. The teams separate only one point, and it will depend from the result of the opposition who will go to the break as a rank of the winter champion. The winner wasn't shown in the head-to-head meeting of this teams in the first round of the championship – a draw 1:1. Both Sevastopol and Simferopol got an impressive shape before the Sunday match: "Sevastopol" won four matches in a row, and "TSK-Tavriya" continues its winning strike till five matches in a row. The game of the 12th tour will be in Sevastopol in the field of the same name sports complex. The referee of the meeting appointed Oleg Lapishko from Simferopol.
"Kyzyltash", Bakhchysaray will host FC "Yevpatoriya" at own field. Home team is on the sixth position of the standings has on its asset negative strike, it counts four defeat in a row. Yevpatoriya can't boast of stability as well, lost in two last meetings and wen down to the fourth place. The match "Kyzyltash" – "Yevpatoriya" will be played on stadium in Bakhchysaray "Druzhba", and referee from Dzhankoi Dmitriy Ponomarenko will judge the teams.
"Gvardeets", Skvortsovo will measure its strength with "Rubin Yalta" on the field of sports center "Skif" in Novopavlovka, Bakhchysaray district. Those rivals achieved opposites results in the last tour: "Gvardeets" smashed "Ocean", Kerch at own field – 4:1, and Yalta couldn't oppose anything in away match with "TSK-Tavriya", lost with huge score 0:4. The meeting of the 12th tour between "Gvardeets" and "Rubin Yalta" will conduct the referee from Simferopol Roman Dovbnia.
"Aluston-SCC" will play with "Ocean", Kerch in Alushta. Alushta improved its position after the win from "Kyzyltash" (1:0) in the last tour, rose up to the fifth line, and Kerch can not to win in the nine matches in a row and locates in the las place. The duel "Aluston-SCC" – "Ocean" will be on the field of Training center of athletic performance of Russian National teams "Krimskiy", and teams will be brought out to the field by referees' team led by Iurii Volkov from Simferopol.
All matches of the 12th tour of the CFU Premier League are scheduled to show in live broadcast on the official Crimean football union website.