The 13th tour of the CFU Premier League: "Sevastopol" and "TSK-Tavriya" are breaking away
November 22, 2021 / 09:47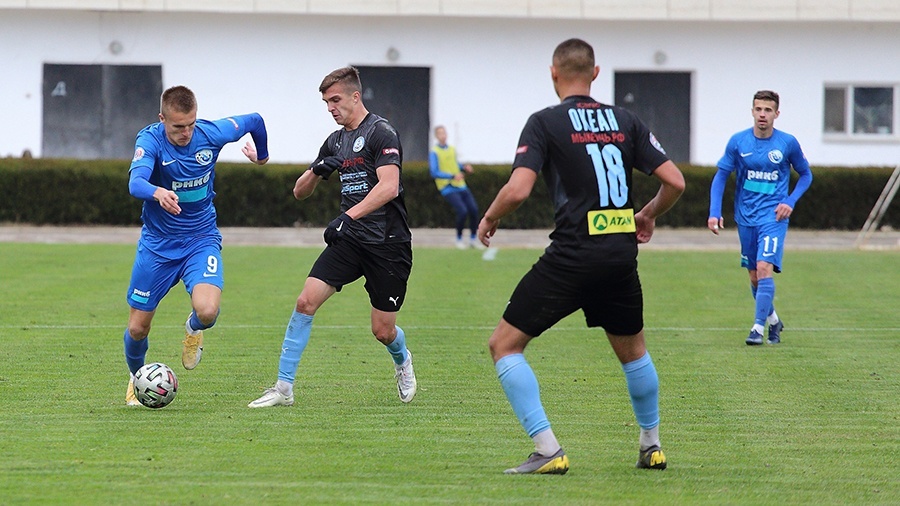 The matches of the 13th tour of the Crimean football union Premier League championship, season – 2021 were played on Saturday, November 20.
"Ocean", Kerch lost to FC "Sevastopol" at own field – 2:3. Home team was the first to take the lead: Anatoliy Sedov was accurate in the 7th minute, but Sevastopol managed not just equalized the score but also went ahead before the break. Vladislav Semenishin sent the ball to own goal in the 31st minute, Vladislas Tsoi brought his team ahead after seven minutes, and Vitaliy Mironenko fixed the advantage of "Sevastopol" in th e44th minute. Boris Gogichaishvili made up a goal deficit in the second half in the 44th minute, but no more goals were scored in this match.
"Aluston-SCC", Alushta lost at native walls to "Gvardeets", Skvortsovo – 0:2. The most interesting things happened in the second half. Andrey Zborovskiy opened the score in the 76th minute, and Aslanbek Sikoev doubled the advantage of "Gvardeets" after 10 minutes.
"Rubin Yalta" smashed "Kyzyltash", Bakhchysaray at home match – 4:0. Roman Vasiukov brought ahead Yalta in the 48th minute. Alksandr Obolentsev doubled the score, and the same Vasiukov made a "double" after two more minutes. The finally assist of the match made Ruslan Suslov in the 90+1st minute.
"TSK-Tavriya", Simferopol won from FC "Yevpatoriya" in central match in away game- 3:2. The teams went to a half-break with the score 1:0 in favor of "Tavriya" – Kirill Klysha opened the goal of the rival in the 32nd minute. Azamat Ataev from Yevaptoriya equalized the score in the second half in the 55th minute, and after eight minutesIurii Maksimov brought "Yevaptoriya" ahead. But home team couldn't to hold the win or made a draw. Sergey Shestakov restored the status quo in the 68th minute, and Artem Zabun scored the winning ball for "TSK-Tavriya" in the 72nd minute.
FC "Sevastopol" continues to lead after 12 conducted matches – 28 points, "TSK-Tavriya" scored one point less, holds second place. "Yevpatoriya" is on the third position – 19 points, then goes "Gvardeets" – 16, "Kyzyltash" – 14, "Aluston-SCC" – 12, "Rubin Yalta" – 11 and "Ocean" closes the standings – 9 points.
The matches of the 14th tour will be on next Wednesday, November 24. There will play: "Sevastopol" – "Yevpatoriya", "Aluston-SCC" – "Kyzyltash", "Gvardeets" – "Ocean" and "TSK-Tavriya" – "Rubin Yalta".