The 8th tour of the CFU Premier League: "Sevastopol" fortifies its leadership, "Kyzyltash" rises to the third place (PHOTO)
October 18, 2021 / 15:25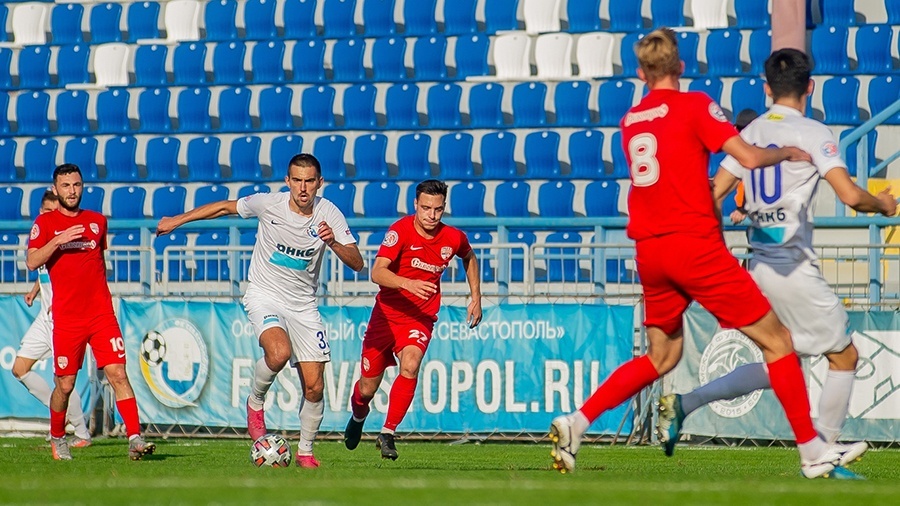 The matches of the 8th tour of the Crimean football union Premier League championship season – 2021/22 were on Sunday, October 17.
"Aluston-SCC", Alushta achieved will win from "TSK-Tavriya", Simferopol at own field – 2:1. Alushta missed in the 21st minute after well-placed shot made by forward of "Tavriya" Artem Zabun. The score 0:1 was till 83rd minute, when Dmitriy Manonin returned the status quo. And midfielder "Aluston" Viktor Galtsov brought the win his team in the 90+1st minute.
"Rubin Yalta" lost to FC "Yevpatoriya" at home match – 0:2. Nikolay Khomitch opened the score in the 14th minute, and Egor Shparev doubled the advantage of Yevpatoriya, thus, set finally score in the game.
FC "Sevastopol" minimally won from "Gvardeets", Skvortsovo in central match of the tour at own field – 1:0. The winning boll scored ex-player of "Gvardeets"Vladislav Tsoi in the 56th minute.
And "Ocean", Kerch couldn't to resist anything to "Kyzyltash", Bakhchysaray at own walls. Ramil Zaripov brought Bakhchysaray ahead in the 5th minute of the game. Viacheslav Purak increase the advantage of "Kyzyltash" in the 19th minute. Vladimir Iatsuk made the score devastating in the 58th minute. Egor Chernyshev from Kerch scored a consolation goal from penalty in the 90th minute of the match. As result 3:1 – "Kyzyltash" wins.
FC "Sevastopol" fortifies its leadership position, scored 19 points. "TSk-Tavriya" is on the second position – 15 points. "Kyzyltash" rose to the third place – 13 points. Then goes "Gvardeets" and "Yevpatoriya" – by 10 points, "Aluston-SCC" is on the sixth position – 9, "Ocean" in on the seventh place – 7, "Rubin Yalta" closes the standings – 4 points.
The matches of the 9th tour of the CFU Premier League will be on next weekend. There will play on Saturday, October 23: "Rubin Yalta" – "Sevastopol" and "Yevpatoriya" – "Aluston-SCC". There will be the matches on Sunday, October 24: "Ocean" – "TSK-Tavriya" and "Kyzyltash" – "Gvardeets".