"Sevastopol" and "Yevpatoriya" are leading after the second tour of the CFU Premier League (PHOTO)
August 30, 2021 / 10:43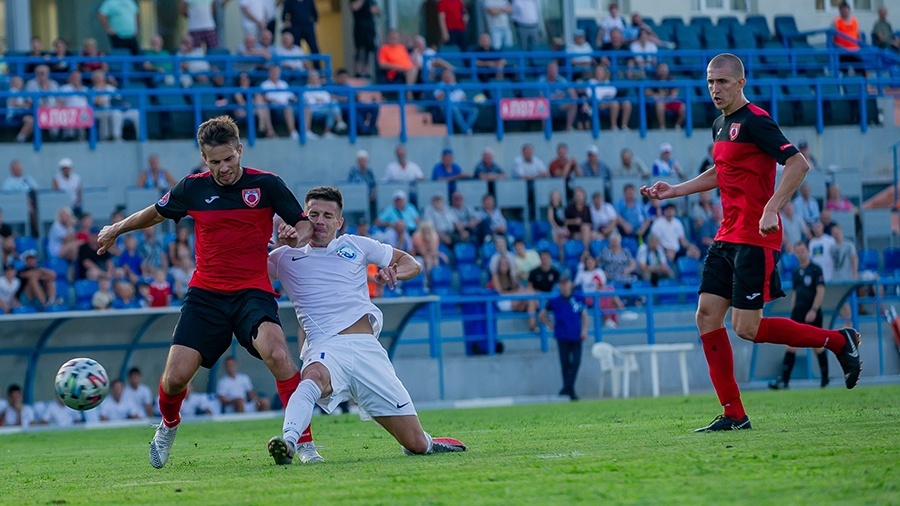 The matches of the 2nd tour of the Crimean football union Premier League championship, season-2021/22 took place on the peninsular on the last weekend.
The tour was opened by the match in Alushta, where local "Aluston-SCC" hosted FC "Yevpatoriya". The home team was ahead of the score already in the 4th minute – David Okropiridze distinguished himself. Alushta could doubled its advantage, but Alan Katsaev couldn't' to win from goalkeeper of Yevpatoriya Vladislav Suslov from penalty in the 36th minute. The score was equalized in the 4th minute – accurate shot on the asset of Azamat Ataev. Alushta was in numerical disadvantage in the 66th minute of the match. Adlan Katsaev was suspended for the second cautions. And football players of "Yevpatoriya" took advantage of it: Dliaver Nuritdinov brought the win to his team by well-placed shot in the 73rd minute – 2:1.
FC "Sevastopol" confidently dealt with debutant of the League – "Rubin Yalta" at own field. Aleksandr Smirnov opened the goal of Yalta in the 38th minute. Dmitriy Matvienko doubled the advantage of Sevastopol in the 62nd minute, and Aleksey Tkach made the score huge from penalty in the 90+1st minute. Nikita Pronin made a consolation goal in the line-up of "ruby" on the 4th minute of the injury time. 3:1 – "Sevastopol" wins.
"Gvardeets", Skvortsovo minimally won from "Kyzyltash", Bakhchysaray in home duel – 1:0. Arsen Kaitov brought the win to his team by long shot in the 20th minute.
And second tour was closed by the match in Simferopol, where local "TSK-Tavriya" hosted "Ocean", Kerch. Simferopol dominated during all game and it won natural. Kirill Plotnikov opened the score in the 21st tour, and finally assist in the match made ex-player of "Ocean" Sergey Shestakov in the 87th minute – 2:0, the win of the club from Simferopol.
"Sevastopol" and "Yevpatoriya" are leading after the matches of the second tour, scored by 6 points. "TSK-Tavriya" is on the third line (4 points). Then goes "Ocean" and "Gvardeets" – by 3 points, "Aluston-SCC" – 1 point. "Kyzyltash" and "Rubin Yalta"are closing the standings, didn't score the points yet.
The matches of the 3rd tour of the CFU Premier League – 2021/22 will be on September 4-5. There will play on Saturday, September 4: "Kyzyltash" – "Sevastopol" and "TSK-Tavriya" – "Gvardeets". There will be matches on Sunday, September 5: "Yevaptoriya" – "Ocean" and "Rubin Yalta" – "Aluston-SCC".