FC "Sevastopol" – FC "Gvardeets" (Skvortsovo) – 1:1, by penalty – 5:3. Protocols data
August 14, 2021 / 20:44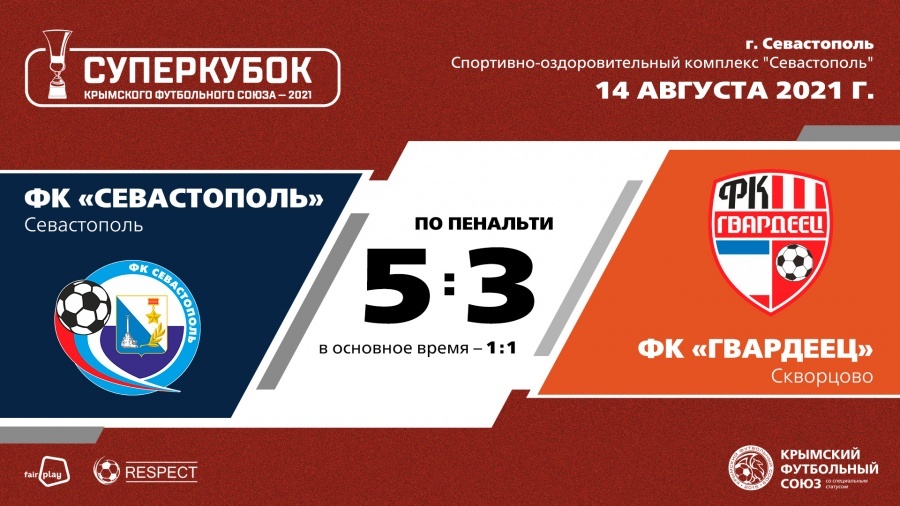 August 14, 2021. Sevastopol. SHC "Sevastopol". 1000 supporters. Pitch quality – 3. Crimean football union Supercup (season 2021)
FC "Sevastopol" – FC "Gvardeets" (Skvortsovo) – 1:1, by penalty – 5:3
FC "Sevastopol": Sergey Naumenko (Evgeniy Zamerets, 90+2), Vitaliy Mironenko (Andrey Kiva, 59), Roman Klimentovskiy, Dmitriy Matvienko, Vladislav Gevlich, Artur Aimetdinov (Aleksandr Cheliadnik, 81), Matvey Guiganov, Aleksandr Smirnov, Aleksey Tkach, Maksim Suprun (Anton Golenkov, 78), Anton Pencheliuzov (Evgeniy Prokopenko, 46).
Head coach – Oleg Leshchinskiy.
FC "Gvardeets": Mukharbek Buraev (Vitaliy Trotskii, 90+2), Batradz Tedeev, Petr Oparin, Anton Shendrik, Valeriy Dzen (Aleksey Fakhrutdinov, 69), Danila Khakhalev, Amet Dugu, Nikita Filatov, Maksim Prikhodnoy (Igor Dudov, 78), Andrey Zborovskiy (Abdurashidbek Tokhirov, 85), Dzambolat Khastsaev.
Head coach – Maksim Startsev.
Goals: Artur Aimetdinov, 3 – Amet Dugu, 81.
Yellow cards: Maksim Suprun, 74, Evgeniy Prokopenko, 76 – Amet Dugu, 59, Andrey Zborovskiy, 65, Abdurashidbek Tokhirov, 90+1.
Converted penalties scored after the match: Dmitriy Matvienko, Andrey Kiva, Vladislav Gevlich, Evgeniy Prokopenko, Anton Golenkov – Anton Shendrik, Danila Khakhalev, Amet Dugu.
Fail from the spot after the match: Dzambolat Khastsaev.
Referee – Aleksandr Kreshchik (Saky).