The matches of the 27th tour of the CFU Premier League will be played on Sunday, June 6
June 4, 2021 / 14:31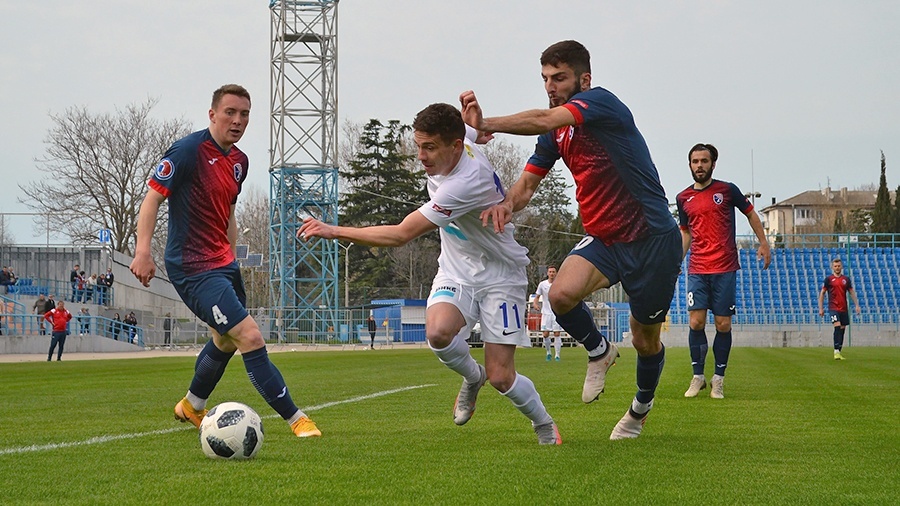 The games of the 27th tour of the Crimean football union Premier League championship, season-2020/21 will be on June 6.
They will be in Kerch, Bakhchysaray district and Yevpatoriya. Let us note, that according to the regulations of the championship, all matches will start at the same time – 18 o'clock.
"Ocean", Kerch will play with "Krymteplitsa" from Molodezhnoe at own field. Kerch guarantees itself the place in the CFU Premier League of next season and "Teplitsa" continues to fight with "Gvardeets" for second place. The meeting "Ocean" – "Krymteplitsa" will be on the stadium n.a. 50th anniversary of October, and referee from Pervomaiskoe Roman Shalverov will judge the teams.
"Kyzyltash", Bakhchysaray will measure its strength with "Gvardeets", Skvortsovo in urban type settlement Kuibyshevo. This meeting will be preparation for the qualifying matches for the right to participation in the CFU Premier League for Bakhchysaray, and duel is extremely important for "Gvardeets" from the point of view of the fight for the second place. The game "Kyzyltash" – "Gvardeets" will be on the field of sports complex "Incomsport". Mikhail Verikovskiy from Simferopol is appointed as the referee of the match.
Crimean derby "TSK-Tavriya" – "Sevastopol" will be in Novopavlovka on the field of sports complex "Skif". Simferopol went down to the sixth position of the standings after the lost from "Gvardeets" in the last tour, and Sevastopol don`t slow down and continues to win despite they became the champion, having won from "Yevpatoriya" in the last tour. The match "TSK-Taviya" – "Sevastopol" is entrusted to judge the referees' team led by Aleksandr Kreshchik from Saky city.
And FC "Yevpatoriya" will play with "Favorit-VD Kafa", Feodosiya at own stadium. Yevpatoriya still has theoretically chances to get in awards, and Feodosiya has long said goodbye to a place in the elite Crimean division. The game "Yevpatoriya" – "Favorit-VD Kafa" will be on sports complex "Arena-Crimea". Maksim Klim from Sevastopol will conduct the match as referee.
All games of the 27th tour you can watch in live broadcast on the official CFU website.