The matches of the 26th tour of the CFU Premier League will be played on Wednesday, June 2
June 1, 2021 / 16:15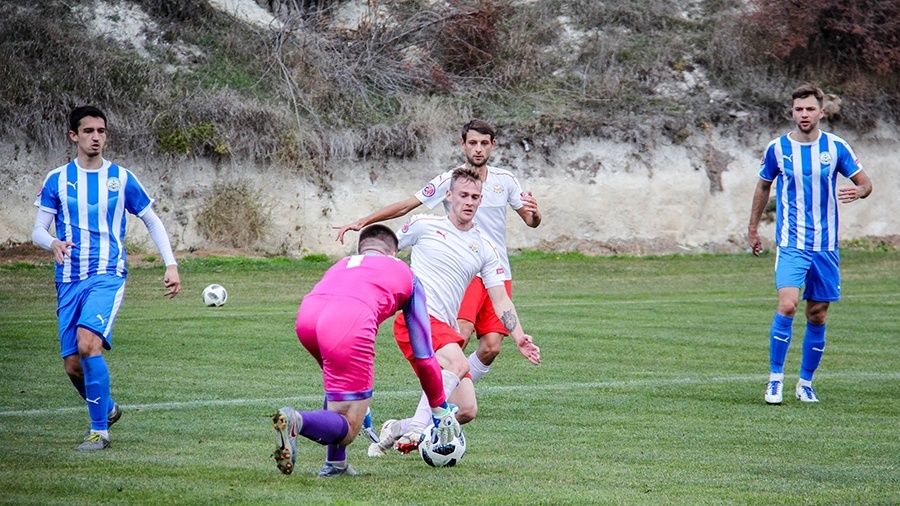 The matches of the 26th tour of the Crimean football union Premier League championship, season- 2020/21 will be on the peninsular on next Wednesday, June 2.
There will play in Bakhchysaray district, Sevastopol, Kerch and Simferopol.
"Gvardeets", Skvortsovo will play with "TSK-Tavriya", Simferopol on the field of sports center "Skif" in Novopavlovka. Simferopol isn't in safe place from play-off games, and "Gvardeets" is fighting for "silver" awards. The match "Gvardeets" – "TSK-Tavriya" starts at 17 o'clock, and Dmitriy Ponomarenko from Dzhankoi will judge the teams.
FC "Sevastopol" will host FC "Yevpatoriya at own field. Sevastopol soled all tasks at this season, became the champion ahead of time, and Yevpatoriya still has the chances to get to the top three. The game "Sevastopol" – "Yevpatoriya" will be on the field SHC "Sevastopol". The beginning of the game at 18 o'clock. Roman Shalverov from Pervomaiskoe is appointed as referee of the duel.
The most important match will be in Kerch, where local "Ocean" will play with "Kyzyltash", Bakhchysaray. Both rivals didn't solve their tasks on preserving of residence in Premier League. If "Ocean" will win in this duel, "Kyzyltash" will play in the matches of play-off. If Bakhchysaray will win, or match will end in a draw, the destiny of seventh place will be decided in the rest two tours. Let us note, that "Ocean" continues its winning streak, it counts seven games. The opposition "Ocean" – "Kyzyltash" will be on the stadium n.a. 50th anniversary of October and will start at 18 o'clock. Oleg Lapishko from Simferopol will be the referee of this meeting.
And tour will end in Agrarnoe urban-type settlement, Simferopol, where "Krymteplitsa", Molodezhnoe will play at the same name stadium with "Favorit-VD Kafa", Feodosiya, who lost any chances to continue its play in the CFU Premier League. Molodezhnoe is fighting with "Gvardeets" for final second place in championship. The match "Krymteplitsa" – "Favorit-VD Kafa" will start at 19 o'clock. The teams will be brought out to the field by referees' team led by Nikita Sugak from Sevastopol.
All matches of the 26th tour of the CFU Premier League you can watch in live broadcast on the official Crimean football union website.