The 25th tour of the CFU Premier League: the champion declassified the outsider, the intrigue is alive in the duel for "silver"
May 31, 2021 / 15:04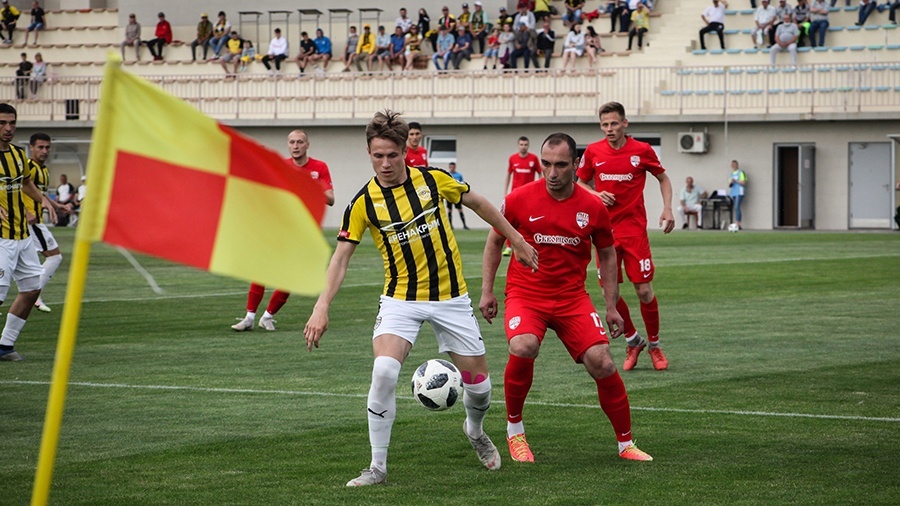 The matches of the 25th tour of the Crimean football union Premier League championship, season -2020/21 were in Crimea on May 29.
FC "Sevastopol" who became the champion, smashed "Favorit-VD Kafa", Feodosiya in away game. This match was in the most difficult weather condition and was abandoned in the 12th minute, and renewed only after an hour and a half. The reason for this – was heavy rain with hail, that hit Simferopol at that day. But heavy field didn't interfere to Sevastopol to send eight unanswered balls to the goal of Feodosiya. Artur Aimetdinov distinguished himself by a double, Anton Pencheliuzov made a hat trick on his asset, Maksim Suprun, Zakhar Tarasenko and Anton Golenkov scored by a goal. As result 8:0 – "Sevastopol" wins.
"Kyzyltash", Bakhchysaray won from "Krymteplitsa", Moldezhnoe at own field – 2:0. Rostislav Romanenko opened the goal of "Teplitsa" in the 48th minute, and Dmitriy Zelenkevich consolidate a success from penalty in the 84th minute.
FC "Yevpatoriya" won from away team from Skvortsovo, "Gvardeets" with a huge score. Oleg Pliev made a double (17th and 80th minutes), as well goals of Vladislav Semenov (7th minute) and Arsentiya Anufrienko (90+1st) brought the win to Yevpatoriya – 4:0.
"TSK-Tavriya", Simferopol and "Ocean", Kerch couldn't to show the strongest. "Tavriya" answered to the goal of Egor Makarov from Kerch (28th minute) by effective shot by Aleksander Borisov in the 51st minute. As result a draw – 1:1.
The standings is next after the 25th tour of the Premier League: "Sevastopol" – 59 points, "Krymteplitsa" and "Gvardeets" – by 41, "Yevpatoriya" – 38, "TSK-Tavriya" – 34, "Ocean" – 33, "Kyzyltash" – 28 and "Favorit-VD Kafa" – 11.
The matches of the 26th tour of the CFU PL will be on next Wednesday, June 2. There will play: "Gvardeets" – "TSK-Tavriya", "Sevastopol" – "Yevpatoriya", "Ocean" – "Kyzyltash" and "Krymteplita" – "Favorit-VD Kafa".