"Krymteplitsa" – "Sevastopol" and tree more matches of the 24th tour of the CFU Premier League will be played on May 23
May 21, 2021 / 16:09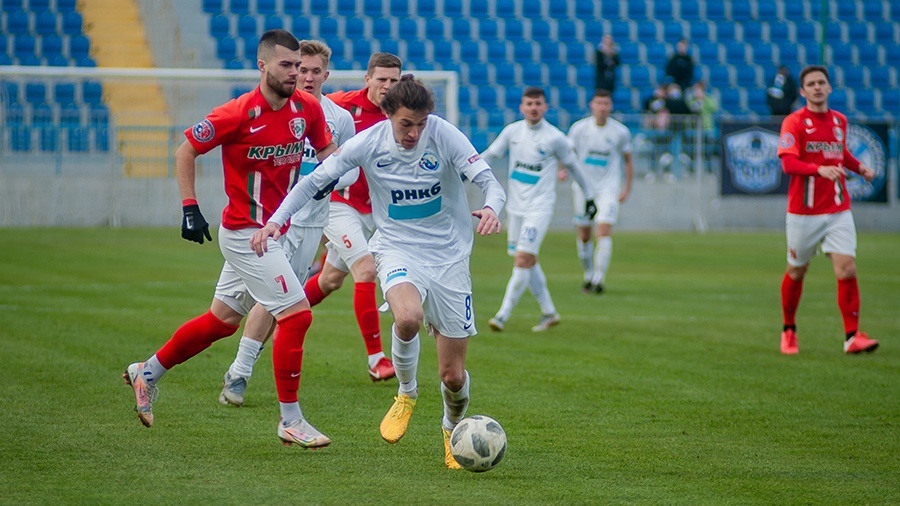 The matches of the 24th tour of the Crimean football union Premier League championship, season -2020/21 will be on Sunday, May 23. Their will be in Bakhchysaray district (2 matches), Kerch and Simferopol.
"Kyzyltash", Bakhchysaray will play with "TSK-Tavriya", Simferopol on the field of sports complex "Incomsport". Bakhchysaray lags from sixth safe position of "Ocean" in five points after defeat from "Yevpatoriya" in the last tour, it significantly complicated their task not getting into play-off games. Simferopol is on the fifth line, scored 32 points. The game "Kyzyltash" – "TSK-Tavriya" will conduct the most experienced referee from Simferopol Iurii Vaks. The beginning of the game 16 o'clock.
"Gvardeets", Skvortsovo will play with "Favorit-VD Kafa" on the field of sports center "Skif" the club from Skvortsovo has all chances to win silver medals, and Feodosiya preserves only theoretical chances for Premier League residence. The game "Gvardeets" – "Favorit -VD Kafa" will start at 17 o'clock. Nikita Sugak fron Sevastopol will judge the teams.
"Ocean", Kerch will play with FC "Yevpatoriya" at own field. Kerch has winning strike of five matches on its asset, thereby seriously increase its chances not getting into play off matches. And Yevpatoriya continues to fight for prize winning top three, having lagged from third place only in three points. The meeting "Ocean" – "Yevpatoriya" starts at 18 o'clock, and teams will be brought to the field by referees' team led by Dmitriy Ponomarenko from Dzhankoi.
And 24th tour will end by stand out match where will meet "Krymteplitsa" and "Sevastopol". This meeting promises to be interesting and intense, because there play first and second teams of the championship, despite that Sevastopol guaranteed itself golden medals of the championship. But one cannot to note an unpleasant for "Krymteplitsa" a series of four defeats in a row. The duel "Krymteplitsa" – "Sevastopol" starts at 19 o'clock and will be in Agrarnoe urban type settlement, Simferopol. Roman Shalverov from Pervomaiskoe is appointed as referee of this match.
All matches of the 24th tour of the Premier League are scheduled to show on the official Crimean football union website.