The 23rd tour of the CFU Premier League starts with match "TSK-Tavriya" – "Krymteplitsa"
May 12, 2021 / 15:03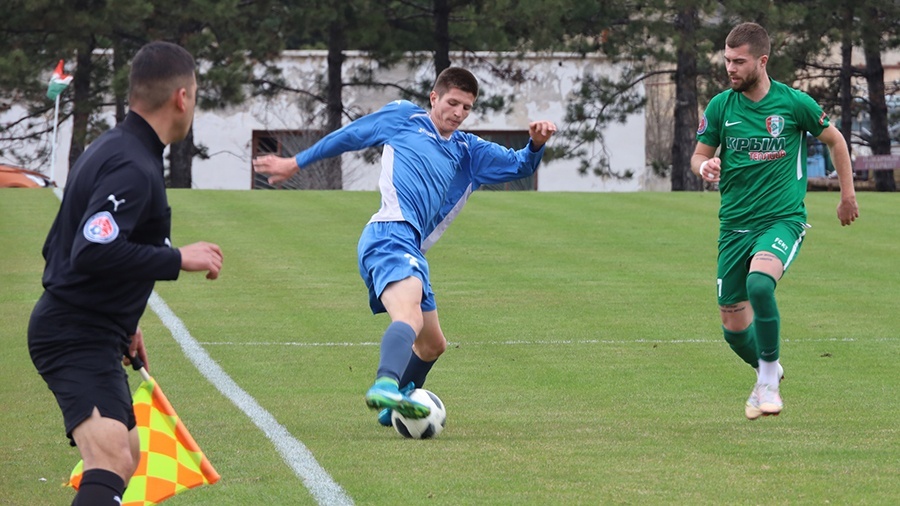 The 23rd tour of the Crimean football union Premier League championship, season -2020/21 starts in Crimea, today on May 12.
"TSK-Tavriya", Simferopol and "Krymteplitsa", Molodezhnoe will play in Novopavlovka, Bakhchysaray district on Wednesday, May 12. The club from Molodezhnoe holds second line in the standings, and "Tavriya" locates on fifth position. Match will be on the field of sports center "Skif" and will start at 16 hours 30 minutes. The match will be judged by referee from Saky city Aleksandr Kreshchik.
Three more matches are waiting of football lovers on Thursday, May 13.
The game in Simferopol starts at 15 o'clock, "Favorit-VD Kafa", Feodosiya will play with "Ocean", Kerch on "Fiolent" stadium. The club from Feodosiya is on the last place of the standings and preserves only theoretical chances on residence in Premier League. And "Ocean" is on the sixth position after good gaming strike with championship leaders and continues to fight to miss the play-off games. The match "Favorit-VD Kafa" – "Ocean" is entrusted to judge to referee from Simferopol Oleg Lapishko.
"Kyzyltash", Bakhchysaray will play in Yevpatoriya with local same name club. FC "Yevpatoriya" has the chances to win the medals in this season, but distance in six points separates from the closest rivals represented by "Krymteplitsa" and "Gvardeets". And "Kyzyltash" lags from safety sixth place only in two points dispute it holds seventh line. The match "Yevpatoriya" – "Kyzyltash" starts at 17 o'clock. Maksim Klim from Sevastopol is appointed as the referee of this opposition.
FC "Sevastopol" can win its third champions title in this tour. Sevastopol should win from new winner of the CFU Cup "Gvardeets", Skvortsovo at own field for this purpose and to count on the lose of "Krymteplitsa" in game with "TSK-Tavriya". The game "Sevastopol" – "Gvardeets" will start at 17 o'clock and will be on the field of SHC "Sevastopol". The referee of this meeting will be Aleksey Polianin from Simferopol.
Let us note, that all matches of the 23rd tour of the CFU Premier League will start from minute's silence in memory of the victims of the tragedy in Kazan.
All games of the 23rd tour of the championship are scheduled to show on the official Crimean football union website.