The matches of the 20th tour of the CFU Premier League were held
April 20, 2021 / 09:18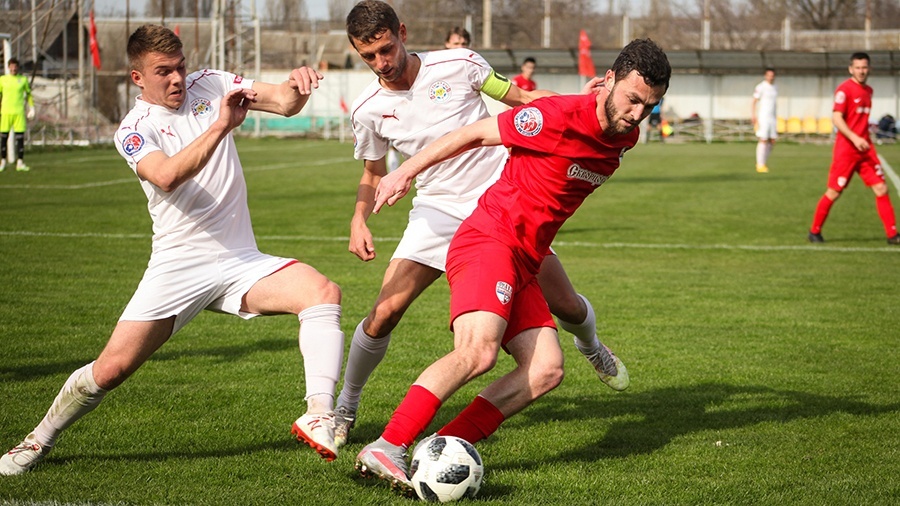 The matches of the 20th tour of the Crimean football union Premier League championship were held on last Sunday, April 18.
"Favorit-VD Kafa", Feodosiya broke up peacefully with FC "Yevpatoriya" in Simferopol. Feodosiya opened the score in the 12th minute after well-placed shot made by Dmitriy Ivanov. But Yevpatoriya won back in three minutes – Dliaver Nuritdinov distinguished himself. Nuritdinov brought "Yevptoriya" ahead in the 59th minute. It seemed, that match will end with this score, but Efim Zolotarev made the final score a draw in 4 minutes before the main match time ended – 2:2.
FC "Sevastopol" and "TSK-Tavriya" couldn-t show the strongest as well. Kirill Klysha from Simferopol opened the goal of "Sevastopol" from penalty in the 23rd minute. Artur Aimetdinov restore the status quo in the second half in the 51st minute. As result a draw 1:1.
"Gvardeets", Skvortsovo minimally won from away team from Bakhchysaray "Kyzyltash" at own field – 1:0. One single ball in this opposition on the asset of Vladislav Tsoi (10th minute).
And tour was ended by a match in Agrarnoe urban-type settlement, Simferopol, where "Krymteplitsa", Molodezhnoe hosted "Ocean", Kerch. Special fight didn't happen in this match – Kerch looked much better than its opponent and naturally achieved devastating win. Egor Chernyshev opened the score in the 14th minute of the match, Sergey Shestakov doubled the advantage of "Ocean" in the 45th minute, and Boris Gogichaishvili made the score devastating in the 60th minute. As result 3:0 – "Ocean" wins.
"Sevastopol" strengthens its leadership after 20th tour, been ahead of the closest follower represented by "Krymteplitsa" by 10 points already. The standings looks next: "Sevastopol" (48 points), "Krymteplitsa" (38), "Gvardeets" (35), "Yevpatoriya" and "TSK-Tavriya" (by 26 points), "Ocean" (22), "Kyzyltash" (21) and "Favorit-VD Kafa" (11 points).
Artur Aimetdinov the midfielder of "Sevastopol" is leading with decent lead (in 5 goals) in the race of goalscorer, scored 15 balls.
The matches of the 21st tour of the CFU Premier League will be on Saturday, April 24. There will play: "Kyzyltash" – "Sevastopol", "TSK-Tavroya" – "Favorit -VD Kafa", "Yevpatpriya" – "Krymteplitsa" and "Ocean" – "Gvardeets".