The matches of the 16th tour of the CFU Premier League will be played on Saturday, March 13
March 12, 2021 / 11:12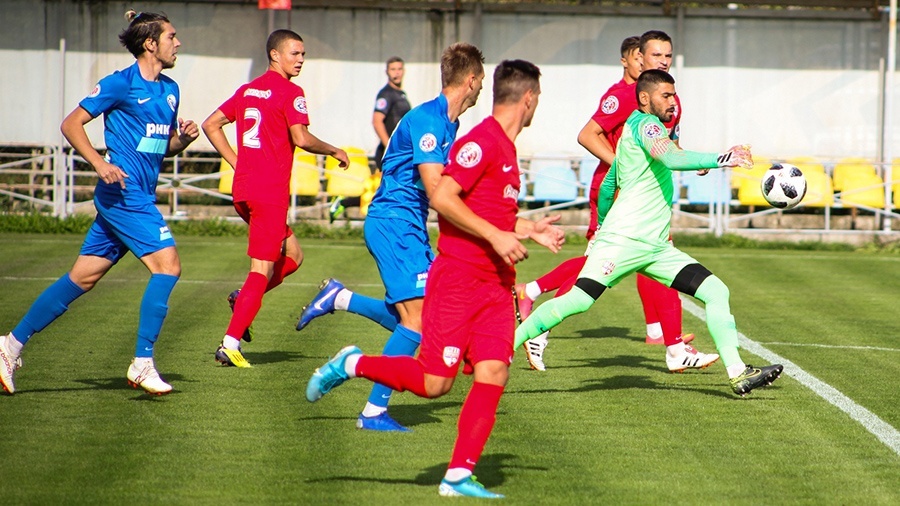 The 16th tour of the Crimean football union Premier League will be in Crimea on next Saturday, March 13. The matches will be in Bakhchysaray district (2 games), Kerch and Simferopol.
The central match of the tour will be in Novopavlovka, Bakhchyasray district, "Gvardeets" from Skvortsovo (Simferopol district) will host championship leader – FC "Sevastopol" there. The club from Skvortsovo holds the third place in the standings, having 27 points in its asset. And "Sevastopol" is single leading, been ahead in ten points from its nearest rival. Let us note, that Sevastopol team suffered only two defeat in the season, and the one of it in away game with "Gvardeets" (0:2). It had happened in the first round of the championship. The match of the 16th tour "Gvardeets" – "Sevastopol" starts at 14 o'clock and will be on the field of sport center "Skif". The tams will be judged the referee from Saky Aleksandr Kreshchik.
"Kyzyltash", Bakhchysaray will measure its strength with FC "Yevpatoriya" in Kuibyshevo. Bakhchysaray left the relegation zone after the win from "Favorit-VD Kafa" in last tour. And Yevpatoriya continues to chase of top three, having lagged from "Gvardeets" in three points, after the won from "TSK-Tavriya" at native walls. The meeting "Kyzyltash" – "Yevpatoriya" will be in sports complex "Incomsport" and will start at 15 o'clock. The referee of this match is appointed Roman Dovbnia from Simferopol.
One more interesting match from point of view of preservation residence in the CFU Premier League will be in Kerch. Local "Ocean" will host "Favorit-VD Kafa", Feodosiya at own field. Kerch went down to the seventh place, having lost to Sevastopol in away game in last tour, and Feodosiya locates at last place, having losing strike of 7 matches in a row on its liabilities. The game "Ocean" – "Favorit-VD Kafa" will be on the stadium n.a. 50th anniversary of October and will start at 15 o'clock. The meeting will be conducted the referees' team led with Iurii Volkov from Simferopol.
And the 16th tour will be ended by the match in Agrarnoe urban-type settlement, Simferopol, where "Krymteplitsa", Molodezhnoe will play with "TSK-Tavriya", Simferopol. Both rivals lost in the last tour with the same score 0:1. "Teplitsa" lost to "Gvardeets", and "Tavriya" – to "Yevpatoriya". The club from Molodezhnoe is on the second place with 31 points, and Simferopol is heading the bottom of the standings, scored 18 points. The match will be on the stadium "Krymteplitsa" and will start at 17 o'clock. The referee of the meeting will be Aleksey Polianin.
All matches of the 16th tour of the CFU Premier League are scheduled to show in live broadcast on the official Crimean football union website.