The CFU Premier League championship will be reopened by matches of the 15th tour
March 5, 2021 / 13:25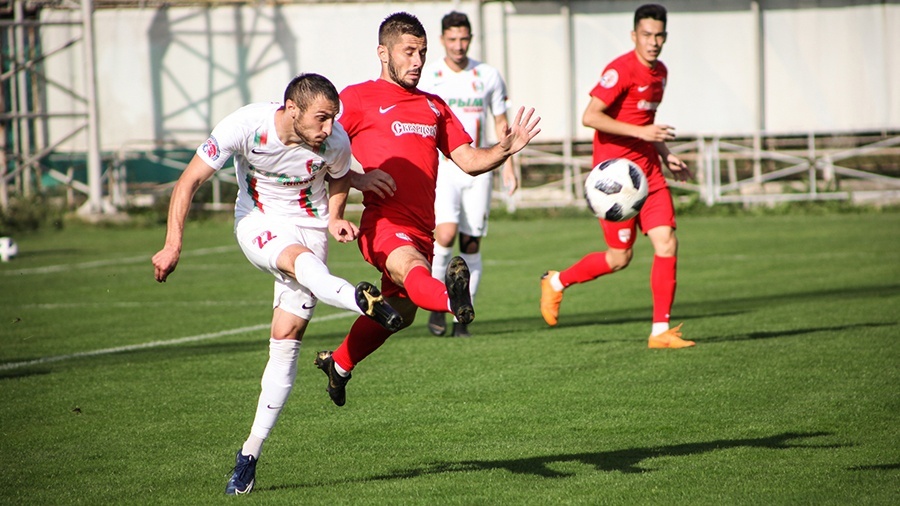 The matches of the Crimean football union Premier League championship, season – 2020/21 are reopening after winter pause.
The games if the 15th tour will be in Yevpatoriya, Sevastopol, Bakhchysaray district and Simferopol.
Two matches wait of football lovers on Saturday, March 6.
FC "Yevpatoriya" will meet with "TSK-Tavriya", Simferopol at own field. The teams are of neighboring positions in the standings. Yevpatoriya holds the fourth place, scored 21 points, and "Tavriya" locates on fifth line with 18 points. The meeting of the 15th tour "Yevpatoriya" – "TSK-Tavriya" will be on the field of sports complex "Arena-Crimea" and will start at 14 o'clock. The referee of the match is appointed Oleg Lapishko from Simferopol.
The derby of the hero-cities will be on Saturday in Sevastopol. FC "Sevastopol" will measure its strength with "Ocean", Kerch at own field. Sevastopol is single leading in the standings, scored 34 points. As for Kerch, it locates in low part of the standings with 15 points after second round. The match "Sevastopol" – "Ocean" will be on the stadium "Sevastopol" and starts at 15 o'clock. This meeting is entrusted to conduct to the referee from Simferopol Mikhail Verikovskiy.
Two more matches will be on Sunday, March 7.
"Gvardeets", Skvortsovo will host "Krymteplitsa", Molodezhnoe on the field of sports center "Skif" in Novopavlovka. Both teams are in the top three. "Gvardeets" is on the third place, scored 24 points, and "Teplitsa" holds second line with 31 points, having lagged from Sevastopol in three points. The beginning of the match "Gvardeets" – "Krymteplitsa" at 14 o'clock. The game will be judged by referees' team led by Roman Shalverov from Pervomaiskoe.
The match in Simferopol on the stadium "Fiolent" will be also at 14 o'clock, where "Favorit-VD Kafa" will host "Kyzyltash", Bakhchysaray. The rivals cope with the same task on preservation of the residence in the CFU Premier League. Feodosiya tightly set at the bottom of the standings, scored only 7oints for 14 conducted games. "Kyzyltash" is doing a little bit better: "red-white" is ahead of "Favorit-VD Kafa" in five points and locates on 7th position. The match in Simferopol starts at 14 o'clock, and the teams will be brought out to the field by referee from resort-city Saky Aleksandr Kreshchik.
All matches of the 15th tour of the CFU Premier League are scheduled to show in live broadcast on the official Crimean football union website.