The first quarterfinal matches of the CFU Cup-2021 were held
March 1, 2021 / 15:24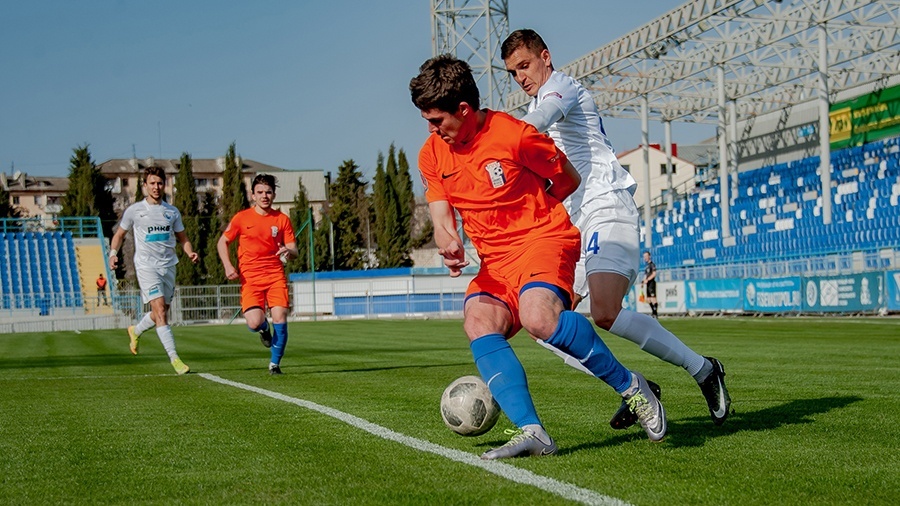 The first quarterfinal matches if the Crimean football union Cup draw-2021 were played in peninsular at last weekend.
The duels were in Yevapatoriya and Sevastopol on Saturday, February 27.
"TSK-Tavriya", Simferopol minimally lost to FC "Yevpatoriya" in conditionally home game for itself. Evgeniy Odintsov from Simferopoll couldn't to convert a penalty in the 11th minute of the game. Nominal away team was ahead in the 34th minute – Andrey Sidenko scored from penalty. Newcomer of "TSK-Tavriya" Kirill Klysha restore the balance in the first minute of injury time (from penalty as well). Yevpatoriya was ahead of the score again at the very beginning of the second half. Vladimir Pshenichnikov conducted the winning goal for his team in the 48th minute of the game. As result 2:1 – "Yevpatoriya" wins.
FC "Sevastopol" won from away team from Feodosiya – "Favorit-VD Kafa" with the score 3:0 without any problem. Aleksandr Smirnov brought his team ahead in the third minute of the game. Artur Aimetdinov doubled the advantage of "Sevastopol" (17th minute). Dmitriy Matvienko from Sevastopol couldn't to convert a penalty in the 42nd minute, and Anton Golenkov made a finally assist of this meeting in the 71st minute.
Two more matches were on Sunday, February 28.
"Ocean", Kerch couldn't to resist anything to "Gvardeets", Skvortsovo, having lost with devastating score 0:4. Vladislav Tsoi distinguished himself by a double in the line-up of "Gvardeets" (45+1st and 47th minutes), Danila Khakhalev (34th minute from penalty) and Andrey Alekasndrov (78th minute) scored by a ball.
"Krymteplitsa", Molodezhnoe hosted "Kyzyltash" at nominally home match in Kyibyshevo urban-type settlement, Bakhchysaray district. Nominally home team opened the score in the 20th minute: Aleksey Babyr was accurate from penalty. But "Kyzyltash" managed to win back in the second half. Dmitriy Khodarchenko set finally score – 1:1.
Return quarterfinal legs of the CFU Cup-2021 will be on March 17.
The matches of the CFU Premier League championship will be reopened on next weekend. There will play on Saturday, March 6: "Yevpatoriya" – "TSK-Tavriya" and "Sevastopol" – "Ocean". Two more matches will be on Sunday, March 7: "Gvardeets" – "Krymteplitsa" and "Favorit-VD Kafa" – "Kyzyltash".