The 14th tour of the CFU Premier League: "Ocean" won from "Gvardeets" in away game, and "Sevastopol" achieved willed win in match with "Kyzyltash"
December 18, 2020 / 13:36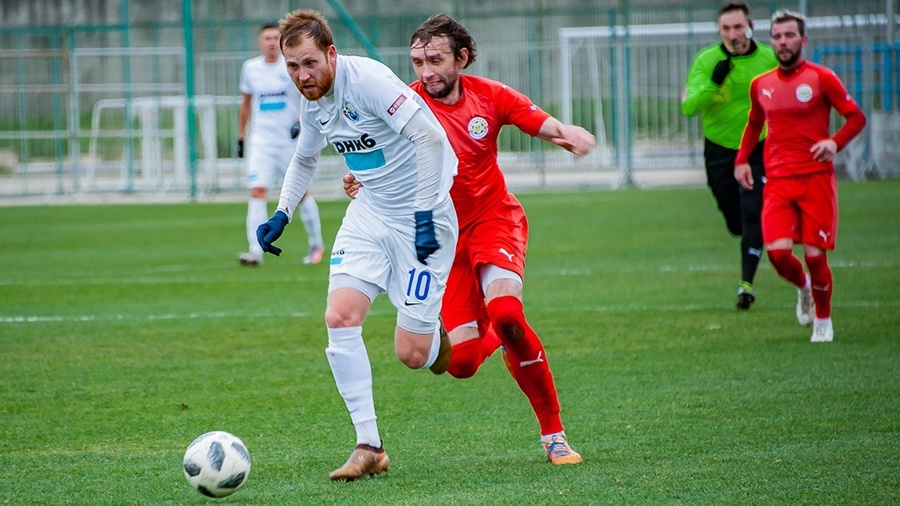 The final matches in this year of the 14th tour of the Crimean football union Premier League championship, season-2020/21 had happened on December 14.
The chief outsider of the championship – "Favorit-VD Kafa", Feodosiya lost sixth match in a row. "TSK-Tavriya", Simferopol was offender of the club from Feodosiya for this time. Ilia Borisov brought metropolitan team ahead in the end of first half. Feodosiya won back in the second half – ball on the asset of Evgeniy Stukanov. But "Favorit" couldn't to hold a draw. Magomedali Naniev brought away win to "TSK-Tavriya" in the 88th minute – 2:1.
FC "Sevastopol" met with "Kyzyltash", Bakhchysaray at own field. Away team was ahead the score already on the second minute – Andrey Mamatiuk distinguished himself. Sevastopol restored the status quo in 30 minutes after well-placed shot of Daniil Nagovitsin. Zakhar Tarasenko brought Sevastopol ahead in the very beginning of the second half. But Aleksand Rybolovlev from Bakhchysaray equalized the score in the 52nd minute. But the football players of "Sevastopol" managed to snatch the win. The best shooter of the championship Artur Aimetdinov scored a goal for Sevastopol in the 82nd minute – 3:2. Let us note, that winning streak of "Sevastopol" is 7 matchs now.
"Ocean", Kerch achieved minimally win from "Gvardeets", Skvortsovo in away game. Ruslan Zinchenko midfielder of Kerch made one single ball in this opposition in the 65th minute – 1:0, "Ocean" wins.
"Krymteplitsa", Molodezhnoe got labor win from FC "Yevpatoriya" on the own field. The main events happened in the second half. Dliaver Nuritdinov from Yevpatoriya brought his club ahead at the beginning (57th minute). But "Teplitsa" managed to turn the match and achieved the win. Aleksey Babyr equalized the score in the 73rd minute, and Azamat Ataev became an author of winning goal of "Krymteplitsa" in two minutes – 2:1.
The situation is next in the standings after the matches of the 14th tour. "Sevastopol" is sole leading – 34 points, "Krymteplitsa" is on the second position – 31 points, "Gvardeets" closes the top three – 24 points. "Yevpatoriya" is on the fourth place – 18 points, "TSK-Tavriya" scored the same number of points, locates on the fifth position. "Ocean" rose to the sixth position – 15 points, "Kyzyltash" is on the seventh place – 12, and "Favorit-VD Kafa" closes the standings – 7 points.
The postpone match of the 5th tour of the Premier League will be played on next Monday, December21. FC "Yevpatoriya" will host FC "Sevastopol" at own field. The beginning of this game at 14 o'clock.
The matches of the CFU Premier League will restart in March 2021.