13th tour of the CFU Premier League: "Sevastopol" gained sixth victory in a row, and "Krymteplitsa" and "Gvardeets" lose the points
December 14, 2020 / 15:50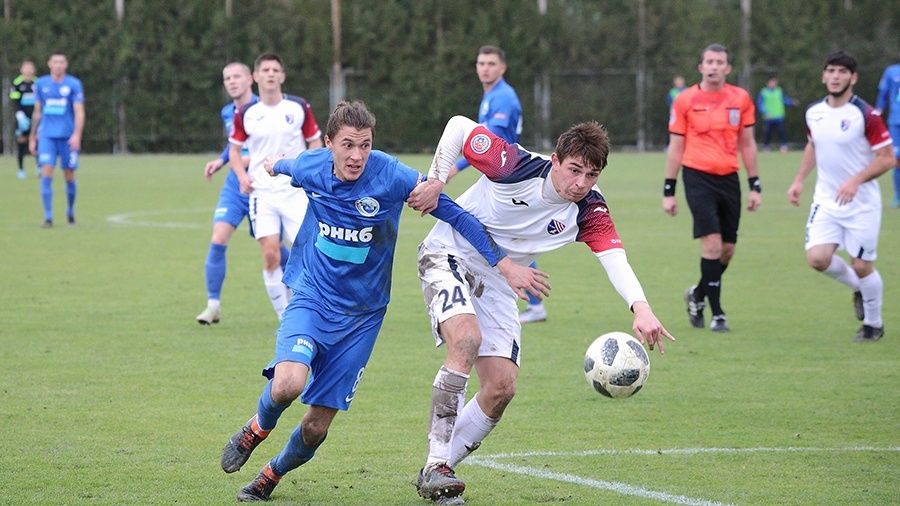 The matches of the 13th tour of the Crimean football union Premier League championship, season-2020/21 were played in Crimea on Sunday, December 13.
"Ocean", Kerch played in a draw with one of the leaders – "Krymteplitsa" at own stadium. Away team from Molodezhnoe opened the score in the 29th minute – Aslanbek Sikoev distinguished himself. But Timur Shadrin from Kerch restored balance before the half-time in the second minute of injury time – 1:1. The score didn't change in the second half.
The match in urban type settlement Kuibyshevo ended with the same score, where "Kyzyltash", Bakhchysaray hosted the team from top three – "Gvardeets". Away team was ahead the score before the half-time – own goal is on the passive of Oleg Kibizov defender of "Kyzyltash". Bakhchysaray managed to win back in one minute before the main time of the match ended: Abdurashidbek Tokhirov brought a draw to his team – 1:1.
"TSK-Tavriya", Simferopol lost to FC "Sevastopol" in home game. The best goalscorer of the championship Artur Aimetdinov brought ahead Sevastopol in the 42nd minute, and Zakhar Tarasenko doubled the advantage of club from Sevastopol in the 66th minute. As result 2:0 – sixth win in a row of "Sevastopol".
The most effective match of 13th tour became duel in Yevpatoriya, where local same name club won from outsider of the championship – "Favorit-VD Kafa". Away team was twice ahead in the meeting: Iurii Klochkov (17th minute) and Efim Zolotarev (40th) have the goal on the asset in Feodosiya. Iaroslav Udin (20th minute), Nikolay Khomich (56th), Dmitriy Popovich (74th), Dliaver Nuridinov (84th) and Andrey Sidenko (89th) scored the balls for "Yevpatoriya". As result 5:2 – willed and confident win of Yevpatoriya. Let us note, that "Favorit-VD Kafa" suffered a fifth defeat in a row.
"Sevastopol" strengthened its leadership after the matches of the 13th tour – 31 points, "Krymteplitsa" is on the second place – 28 points, "Gvardeets" closes the top three – 24 points. Then goes: "Yevpatoriya" – 18, "TSK-Tavriya" – 15, "Kyzyltash" and "Ocean" – by 12, "Favorit-VD Kafa" closes the standings – 7 points.
The matches of the 14th tour of the CFU Premier League will be on next Thursday, December 17. There will play: "Favorit-VD Kafa" – "TSK-Tavriya", "Sevastopol" – "Kyzyltash", "Gvardeets" – "Ocean" and "Krymteplitsa" – "Yevpatoriya".