The 12th tour of the CFU Premier League: "Sevastopol" smashed "Yevpatoriya", "TSK-Tavriya" broke its winning streak
December 10, 2020 / 10:35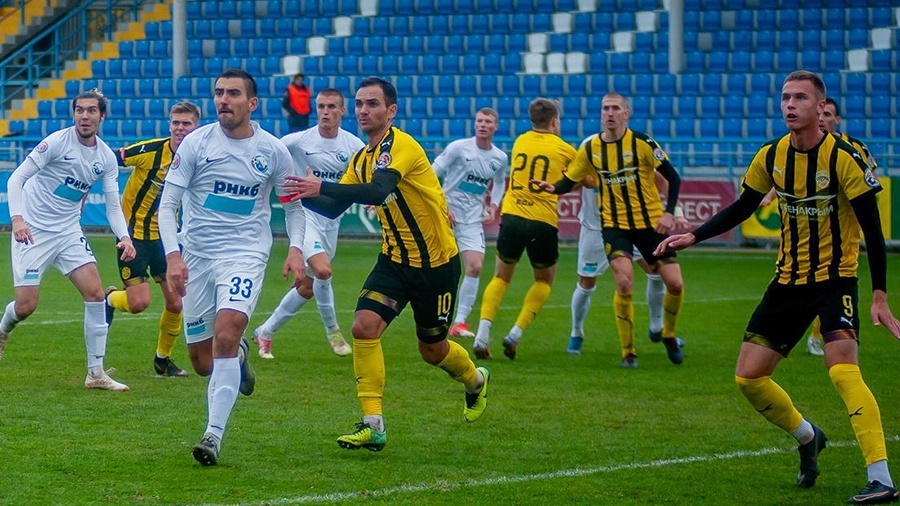 The matches of the 12th tour of the Crimean football union Premier League championship, season-2020/21 were played on December 9.
FC "Sevastopol" smashed acting champion – FC "Yevpatoriya" with the score 4:0 at own walls. Artur Aimetdinov (6th minute), Daniil Nagovitsin (22nd), Zakhar Tarasenko (44th) and Anton Pencheliuzov (83rd) are distinguished themselves by goals in the line-up of Sevastopol.
"Gvardeets", Skvortsovo achieved minimal home win, who won from "TSK-Tavriya" with the score 1:0. Andrey Zborovskiy broke by well-placed shot in the 18th minute the winning and draw streak of "Tavriya", wich counts five matches.
"Kyzyltash", Bakhchysaray broke its losing series, won from "Ocean", Kerch at own field – 2:1. All goals had happened in the second half. Kerch was ahead the score first: Vladislav Karimov was accurate in the 61st minute. But Bakhchysaray managed to gathered and turned the match around. Vladislav Iatsuk made the score a draw in the 71st minute, and Abdurashidbek Tokhirov brought the win the "Kyzyltash" in the 80th minute.
And the meeting between "Krymtelitsa" and outsider of the tournament – "Favorit-VD Kafa", Feodosiya ended with tennis score 6:2. Aslanbek Sikoev (18th and 58th minutes), Redvan Memeshev (35th), Maksim Kuftin (39th), Rustam Vazitdinov (66th) and Dmitriy Ivanov (78th) scored the goals in the line-up of "Teplitsa". Iurii Klochkov (45th minute) and Efim Zolotarev (80th) distinguished themselves in Feodosiya.
There were no major changes in the standings after the 12th tour. "Sevastopol" is still leading (28 points), then goes: "Krymteplitsa" (27), "Gvardeets" (23), "Yevpatoriya" (15), "TSK-Tavriya" (15), "Kyzyltash" (11), "Ocean" (11) and "Favorit-VD Kafa" (7 points).
The matches of the 13th tour will be on Sunday, December 13. There will play: "Ocean" – "Krymteplitsa", "Kyzyltash" – "Gvardeets", "TSK-Tavriya" – "Sevastopol" and "Yevpatoriya" – "Favorit-VD Kafa". All matches of the tour will start at 14 o'clock.