The 6th tour of the CFU Premier League: another wins of "Krymteplitsa", "Gvardeets" and "Sevastopol"
November 9, 2020 / 15:50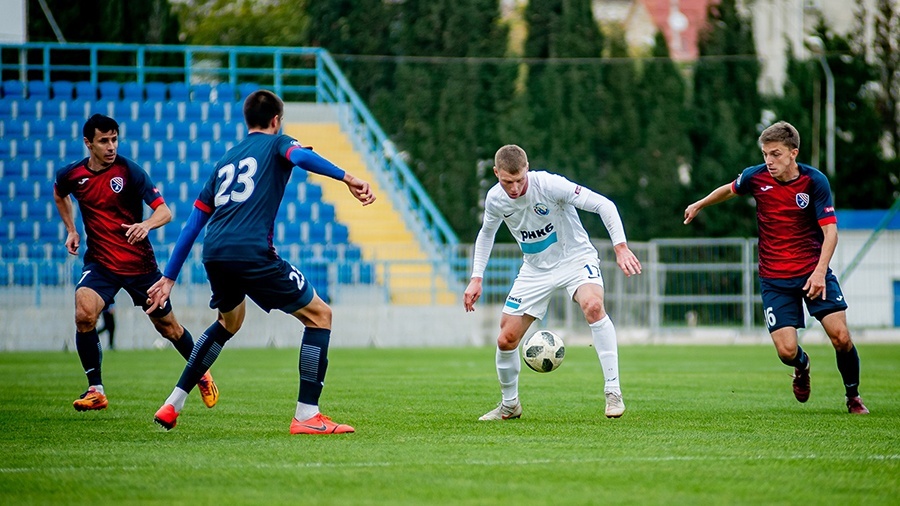 The matches of the 6th tour of the Crimean football union Premier League championship, season-2020/21 took place in Crimea on Saturday, November 7.
FC "Yevpatoriya" was hosted in Feodosiya by local "Favorit–VD Kafa". All important events had happened in the first half. Ilia Pshenichnikov from Yevpatoriya brought his team ahead in the 5th minute. Feodosiya managed to win back in the 18th minute – the ball on the asset of Evgeniy Stukanov. Away team was ahead in the score again in three minutes later – Dliaver Nuritdinov was accurate from penalty. One more penalty was appointed to the goal of Feodosiya in the 38th minute of the game, but Nuritdinov couldn't to score at this time, hit to the goalpost. The final win of "Yevpatoriya" – 2:1.
"Gvardeets", Skvortsovo hosted the guests from "Kyzyltash", Bakhchysaray at own field in Novopavlovka. The midfielder of home team Maksim Prikhodnoy converted penalty at the end of the first half – the teams went to the half-time with minimal advantage of "Gvardeets". And two more unanswered balls visited the goal of "Kyzyltash" in the second half of the meeting. Dzambolat Khastsaev distinguished himself in the 57th minute, and Igor Dudov made finally assist in this game in three minutes before the end of main time of the game – 3:0, "Gvardeets" wins.
FC "Sevastopol" met with "TSC-Tavriya", Simferopol at native walls. A double of halfback of Sevastopol Artur Aimetdinov decided the result of this match, he scored at the beginning and at the end of the match (3rd and 86th minute). As result "Sevastopol" wins – 2:0, and "TSK-Tavriya" lost in the sixth match in a raw.
And tour was ended by the game in Agrarnoe, Simferopol. "Krymteplitsa", Molodezhnoe confidently won from "Ocean", Kerch. All five goal of this opposition were in first half. The newcomer of "Teplitsa" Aslanbek Sikoev made a hat-trick on his asset (5th, 22nd and 26th minutes), one more ball on the asset of Aleksey Babyr (31st minute). Boris Gogichaishvili made a single ball in the line-up of Kerch in the 24th minute. 4:1 – "Krymteplitsa" wins.
"Krymteplitsa" is leading after the matches of sixth tour (15 points), then goes: "Gvardeets" (13), "Sevastopol" (12), "Yevpatoriya" (9), "Ocean", "Kyzyltash" (7), "Favorit-VD Kafa" (4) and "TSK-Tavriya" (0). Let us note, that "Sevastopol" and "Yevpatoriya" conducted in one match less.
The duels of 7th tour will be on next Wednesday, November 11. There will play: "Ocean" – "Gvardeets", "Kyzyltash" – "Sevastopol", "Yevpatoriya" – "Krymteplitsa" and "TSK-Tavriya" – "Favorit-VD Kafa".