FC "Krymteplitsa" (Molodezhnoe) – FC "Yevpatoriya" – 2:2, by penalty – 5:4. Protocols data
September 19, 2020 / 19:37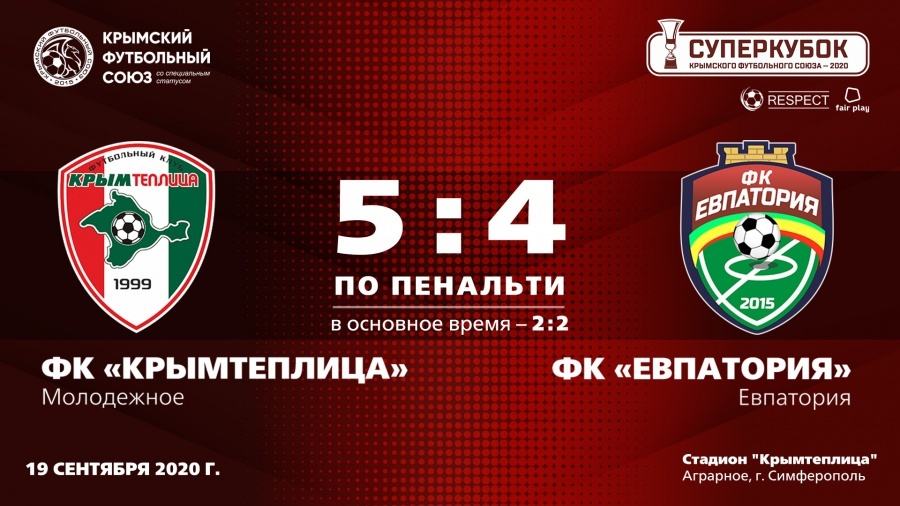 September 19, 2020. Agrarnoe, Simferopol city. Stadium "Krymteplitsa". 200 supporters. Pitch quality – 5. Crimean football union Supercup (season 2020)
FC "Krymteplitsa" (Molodezhnoe) – FC "Yevpatoriya" – 2:2, by penalty – 5:4
FC "Krymteplitsa": Nikita Kolesov, Ivan Frolov, Alan Soltanov, Anton Shendrik, Ianis Linda, Nikita Filatov, Dmitriy Leonov (Nikita Glushkov, 23), Azamat Ataev (Dmitriy Ivanov, 79), Lenur Akhunov (Redvan Memeshev, 72), Aleksey Babyr, Vladimir Sychevoi (Artur Novotriasov, 86).
Head coach – Oleg Kolesov.
FC "Yevpatoriya": Valentin Maniakin, Dmitriy Popovich, Zeki Aliev (Vadim Avtaev, 90+5), Vladislav Semenov, Valeriy Timchenko, Arsentiy Anufrienko, Dliaver Nuridinov, Andrey Sidenko, Iuriy Maksimov, Nikolay Khomich, Denis Sitnikov (Vladimir Pshenichnikov, 61).
Head coach – Aleksey Grachev.
Goals: Vladimir Sychevoi, 18, Dmitriy Ivanov, 88 – Nikolay Khomich, 23, Dliaver Nuridinov, 65.
Unconverted penalty: Vladimir Sychevoi, 56.
Yellow cards: Anton Shendrik, 10, Vladimir Sychevoi, 59, Aleksey Babyr, 60, Artur Novotriasov, 90, Nikita Filatov, 90+4 – Arsentiy Anufrienko, 9, Dliaver Nuridinov, 30, Valeriy Timchenko, 51, Iuriy Maksimov, 60.
Converted penalties scored after the match: Aleksey Babyr, Redvan Memeshev, Alan Soltanov, Nikita Filatov, Artur Novotriasov – Dliaver Nuridinov, Andrey Sidenko, Iuriy Maksimov, Vadim Avtaev.
Fail from the spot after the match: Nikolay Khomich.
Referee – Oleg Lapishko (Simferopol).