First part stats result of the CFU PL championship – 2019/20
December 18, 2019 / 19:22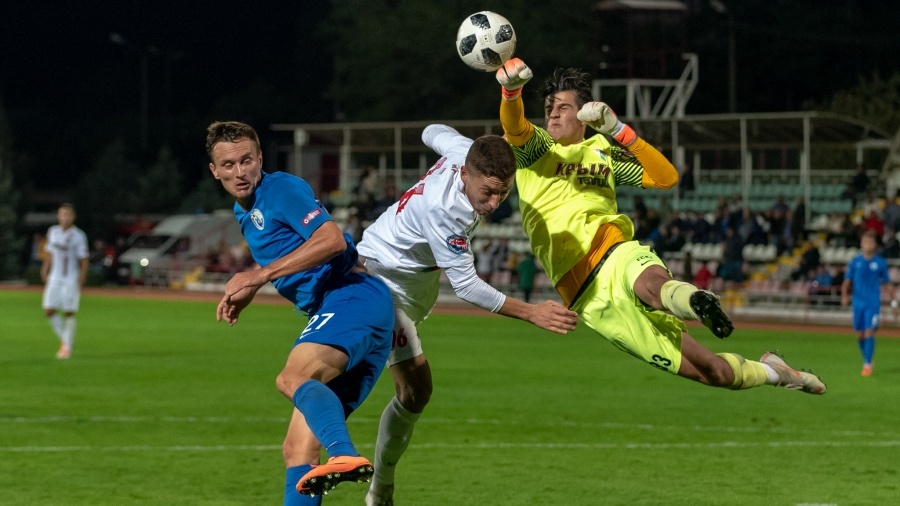 The first part of the Crimean football union Premier-League championship season-2019/20, started on August 17, 2019, was finished.
56 matches were played in total. Of those, only 14 games played a draw, only two ended with a goalless score: "Krymteplitsa" – "Ocean" in the 5th tour and "Yevpatoriya" – "TSK-Tavriya" in the sixth tour. Teams gained 26 wins at home and 21 wins in away.
During 56 duels were scored 180 goals, the average match effectiveness– 3,2 goals.
27 penalties were awarded at first part of the championship season -2019/20, and only 5 of them players could not to implement. The teams scored 91 goals at home, away – 89.
249 yellow cards were shown to the players for 14 played tours. (an average of 4,45 warnings for the match). The greatest number of cautions was shown to the players for a bad sportsmanship – 111 cards, for a rough game – 79 cards, for a broke an advanced attack – 54, for feigning – 4, one yellow card was shown for systematic infringement of the laws of the game. 4 yellow cards were shown to football players out of the field during the game.
The players Adam Osmaev ("Incomsport"), Vladislav Gevlich ("Sevastopol") and Ruslan Zinchenko ("Ocean") saw most of all yellow cards – 6. Let us note, that all this football players conducted 13 games of 14 possible.
As for sending from the field, 14 red cards were shown, 5 of them for foul language, by 4 for violent behavior and rough play, 1 suspension for bad sportsmanship. 5 red cards were shown by referees for repeated offences (two yellow cards).
It is hard to pick out the roughest player of the first part of the championship. No one from suspended football players didn't get more then 1 red card. But defender of "Kyzyltash" Zeki ALiev has in his count 5 more yellow cards except one suspension. Also, defender of "Ocean" Sviatoslav Artiushkin become one of the roughest players, received 1 red card and 4 cautions.
The first part CFU PL championship matches were attended by 24 885 supporters. Traditionally, absolute leader of match attendance is FC "Sevastopol". Matches with the Sevastopol team participation were visited by 11 035 supporters, at the second place Simferopol "TSK-Tavriya" – 9 550, at the third – FC "Yevpatoriya" – 6 135.
The teams located at the same order on attendance at home matches. The home matches of "Sevastopol" visited 7 235 peoples, "TSK-Tavriya" – 6 300, "Yevpatoriya" – 3 000.
The championship goalscorers list are headed by "Yevpatoriya" player Dliaver Nuridinov. 12 scored balls in his asset, 5 were made by him from penalty. Artur Aimetdinov the midfielder of "TSK-Tavriya" is on the second position in the goalscorers race – 7 goals (1 from penalty).
14 referees conducted the first part championship matches as the chief arbitrators. Bogdan Golovko (Yalta), Denis Korablev (Kerch) and Roman Shalverov (Pervomaiskoe) conducted by 6 games. Bogdan Golovko from Yalta showed more yellow cards than others – 31. Referee from Simferopol Roman Dovbnia showed 30 yellow cards. Let us note, that referee Roman Shalverov is leading by suspension quantity of players from the field, shown 4 red cards to football players.