The 14th tour of the CFU Premier League championship: the leaders win synchronically
November 18, 2019 / 16:49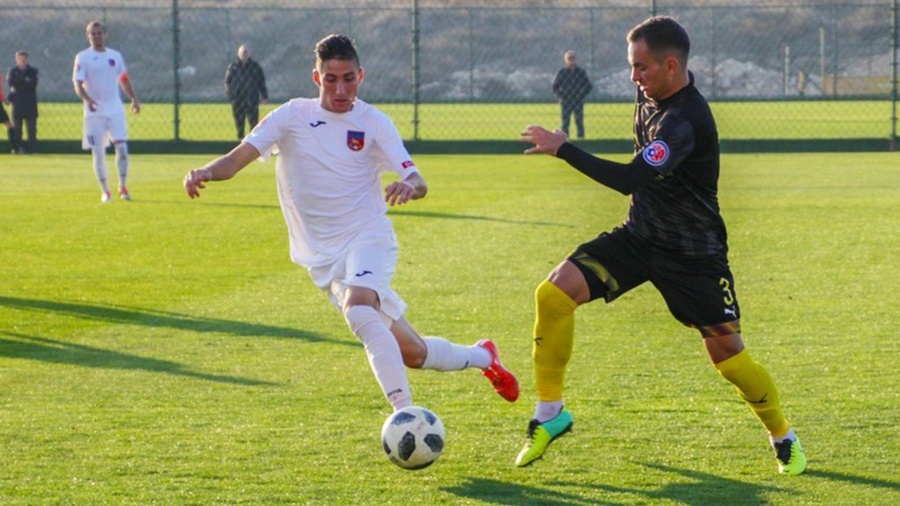 The first part of the Crimean football union Premier League championship, season-2019/20 ended by the matches of the 14th tour.
"Favorit-VD Kafa", Feodosiya couldn't resist anything to away team from Simferopol – "TSK-Tavriya" at own field. The main events of this game happened in the second half, when three unanswered balls visited the goal of Feodosiya. Aleksandr Borshch opened the goal of the rival in the 51st minute. Zakhar Tarasenko the forward of "TSK-Tavriya" made a double in the 77th and 90+2nd minutes. As result the win of the metropolitan team – 3:0. The team from Feodosiya suffered the fifth defeat in a raw in the championship.
"Kyzyltash", Bakhchysaray defeated the rivals from "Ocean", Kerch at native walls. The forward of "red-white" Anton Shevchuk distinguished himself by hat trick in this game, and Daniil Nagovitsin and Aleksandr Rybolovlev made by a goal in their asset. 5:0 – more that confident win of "Kyzyltash".
The leader of the championship – FC "Yevpatoriya" – won from "Incomsport", Yalta with no trouble at all. Dliaver Nuridinov distinguished himself in this opposition by a double (79th and 87th minutes), brought the win to "Yevpatoriya" with the score 2:0.
And 14th tour ended by the central match. FC "Sevastopol" couldn't score the points in the game with "Krymteplitsa", Molodezhnoe at home. The away team opened the score after accurate shot of Maksim Prikhodnoy in the 12th minute. Sevastopol returned status quo by the effort of Redvan Osmanov after 7 minutes, and the same Osmanov brought "Sevastopol" forward in the 27th minute. Rollan Pogoreltsev equalized the score from penalty in the 39th minute of the game. And Pogoreltsev could to bring "Teplitsa" forward again in the 1st extra minute of the match, but missed from penalty. One more 11-meters was appointed to the goal of Sevastopol in the 86th minute in the second half, which was converted by Redvan Memeshev, thus he brought the win to "Krymteplitsa" – 3:2.
FC "Yevpatoriya" is leading in the standings after 14 played tours (35 points), "TSK-Tavriya" is on the second position (30 points), "Krymteplitsa" is on the third line (27 points). "Sevastopol" is on the fourth place with 21 points, "Kyzyltash" has the same number of the points and holds the fifth place. "Favorit-VD Kafa" is on the sixth position (10 points), "Ocean" is on the seventh place (8) and "Incomsport" closes the standings (7 points).
The midfielder of "Yevpatoriya" Dliaver Nuridinov is leading in the race of goalscorer – 12 points.
The summer-autumn part of the CFU Premier League championship -2019/20 ended on this. The championship will restart in 2020.