The matches of the 14th tour of the CFU Premier League will be played on November 14
November 15, 2019 / 17:37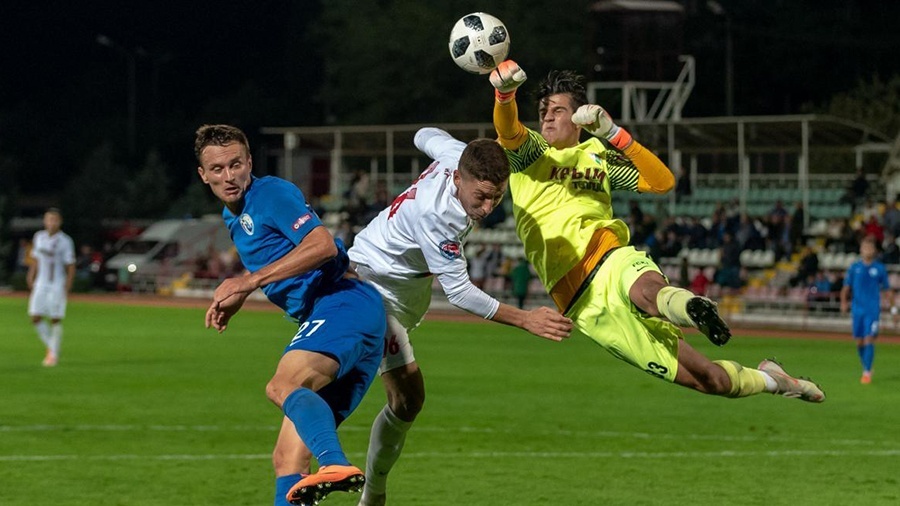 The games of the 14th tour of the Crimean football union Premier League championship, season – 2019/20 will be in Crimea on Sunday, November 17. The matches will be in Feodosiya, Bakhchysaray district, Yevpatoriya and Sevastopol.
"Favorit-VD Kafa", Feodosiya will host at own field "TSK-Tavriya", Simferopol at 14 o'clock. The club from Feodosiya is in the hard gaming crisis, has series of four lost in a raw, and last win of "Kafa" is dates on September 21. The football players of metropolitan club are not in the best condition. "Tavriya" lost in the last two games and lagged from leading "Yevpatoriya" in five points. The match "Favorit-VD Kafa" – "TSK-Tavriya" will be on the stadium n.a. Shaiderov. The referee of this match is appointed Mikhail Verikovskiy from Simferopol.
The game if Novopavlovka, Bakhchysaray district starts at 14 hours 30 minutes. "Kyzyltash" will measure its strength with "Ocean", Kerch on the field of the sports complex "Skif". Bakhchysaray achieved hard away win with the score 3:2 in the game of first round. The game of the 14th tour between "Kyzyltash" and "Ocean" will judge the referees' team led by Oleg Lapishko from Simferopol.
FC "Yevpatoriya" will host "Incomsport", Yalta at own field. Yevpatoriya has great series of seven wins in a raw and single leading in the standings. Yalta smashed FC "Sevastopol" in last tour – 4:0, despite that they are on the last place of the standings, and won from "Favorit-VD Kafa" with the same score on this week within the framework of the CFU Cup. The game "Yevpatoriya" – "Incomsport" will be on the field of the sports complex "Arena-Crimea". The beginning of the game at 15 o'clock. The teams will be brought out to the field by referees' team led by Denis Korablev from Kerch.
And the central match of the tour will be at 16 o'clock, FC "Sevastopol" will meet with "Krymteplitsa", Molodezhnoe. Both teams are continuing to fight for the top three. Sevastopol is on the fourth place, and "Teplitsa" locates one line upper, ahead of their future opponents by three points. The team from Molodezhnoe won 4 last meeting, and Sevastopol can not to brag such stability, rotates wins and defeats. The game "Sevastopol" – "Krymteplitsa" will be on the field of Sevastopol's sports and health complex.the game will be judged by the most experienced referee from Simferopol Iurii Vaks.
All matches of the 14th tour of the CFU Premier League will be shown in live broadcast on the official Crimean football union website.