FC "Yevpatoriya" – FC "Sevastopol" – 3:2. Protocols data
October 23, 2019 / 18:58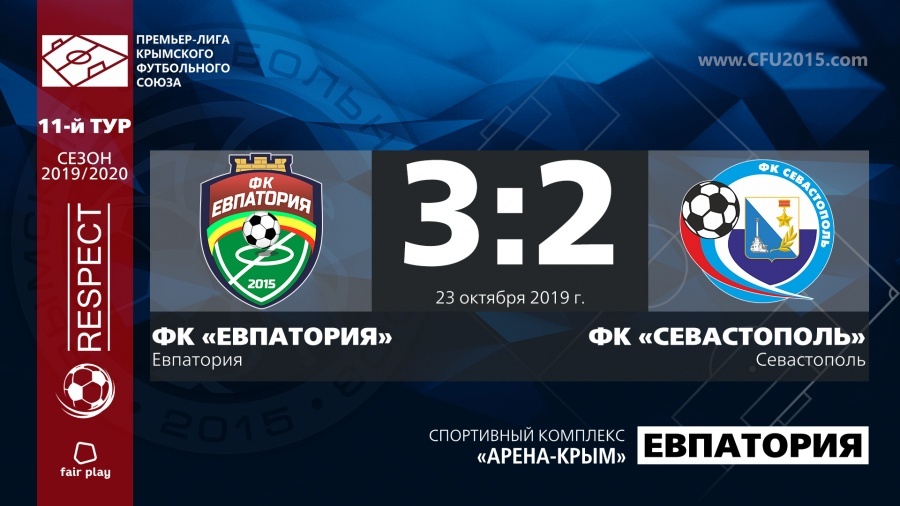 October 23, 2019. Yevpatoriya. SC "Arena-Crimea". 300 supporters. Pitch quality – 4. Crimean football union Premier-League Championship (season 2019/20). 11th tour
FC "Yevpatoriya" – FC "Sevastopol" – 3:2
FC "Yevpatoriya": Vladislav Suslov, Andrey Vasianovich, Aleksandr Cheliadnik, Arsentiy Anufrienko, Vladislav Semenov (Viacheslav Emelianenko, 85), Ivan Voitenko, Iuriy Maksimov, Amir Natkho (Dmitriy Litvinov, 87), Dliaver Nuridinov, Vadim Pronkin (Iaroslav Udin, 58), Nikolay Khomich (Denis Sitnikov, 33; Seikhan Aliev, 77).
Head coach – Aleksey Grachev.
FC "Sevastopol": Sergey Naumenko, Vladislav Gevlich (Aleksey Iablonskiy, 46), Evgeniy Prokopenko (Aleksey Tkach, 65), Petr Oparin, Maksim Davidchuk, Andrey Kiva, Redvan Osmanov (Vladislav Tsoi, 66), Anton Golenkov (Igor Rogovanov, 73), Dmitriy Matvienko, Oleg Solovich, Roman Klimentovskiy.
Head coach – Stanislav Gudzikevich.
Goals: Dliaver Nuridinov, 6, 90+5 (scored from a penalty), Iuriy Maksimov, 19 – Redvan Osmanov, 28, Evgeniy Prokopenko, 64.
Yellow cards: Vadim Pronkin, 85 (out of the field) – Dmitriy Matvienko, 62, Aleksey Iablonskiy, 76, Roman Klimentovskiy, 79.
Referee – Denis Korablev (Kerch).