The eighth tour of the CFU Premier League championship: "Kyzyltash" comes to the leaders, "Ocean" won the second point in the season
October 7, 2019 / 22:17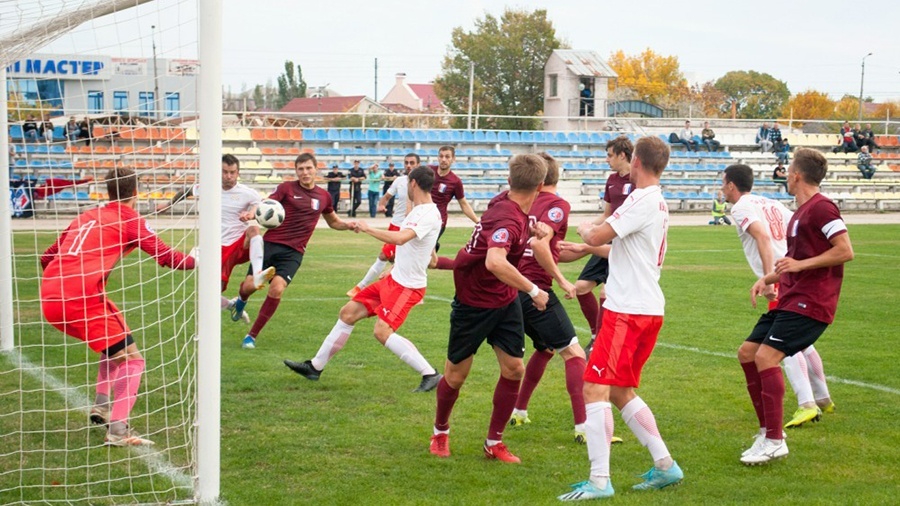 The matches of the eighth tour of the Crimean football union Premier League championship were on last Saturday, October 5.
"Ocean", Kerch parted peacefully with FC "Sevastopol". The referee showed two red cards for both teams to 32nd minute. Sviatoslav Artiushkin in the line-up of "Ocean" was sent off the field, and Dmitriy Matvienko from "Sevastopol" was suspended. Kerch opened the score after six minutes – Ilia Pshenichnikov distinguished himself. But Sevastopol managed to recover balance in four minutes: goal in the asset of Vitaliy Mirinenko. The score of the match didn't changed in the rest of the time – the draw 1:1.
"Incomsport", Yalta lost to metropolitan "TSK-Tavriya" in home opposition. Artur Aimetdinov brought "Tavriya" ahead already in the 2nd minute of the match. But Yalta managed to equalize score before the half-time: Ramil Gasanov was accurate.  Artur Aimetdinov made a double in the second half (54th minute), and Stanislav Pechenkin made final assist of this game in the 81st minute – 3:1, "TSK-Tavriya" wins.
In Feodosiya local "Favorit-VD Kafa" minimally lost to "Kyzyltash". The main events of this match happened in second half. The midfielder of Bakhchysaray Dmitriy Khodarchenko converted penalty in the 53rd minute. The defender of "Kyzyltash" Zeki Aliev was suspended after 5 minutes, and defender of Feodosiya Albert Gabaraev saw in front of himself red card in the 71st minute. As result "Kyzyltash" got the away win with the score 1:0.
And tour was closing in Agrarnoe urban type settlement, Simferopol. "Krymteplitsa", Molodezhnoe met there with FC "Yevpatoriya". The away team was ahead of the score after the goal made by Dliaver Nuridinov in the 35th minute. Iurii Maksimov increased the advantage of Yevpatoriya in the second half (50th minute). Molodezhnoe wiped out a goal deficit in the score in the 53rd minute – Sergey Melnik distinguished himself. And forward of "Yevpatoriya" set final score of the game after five minutes – 3:1, FC "Yevpatoriya" wins. Let us note two suspensions. Redvan Memeshev from "Teplitsa" (45+2nd minute) and Amir Natkho from Yevpatoriya (73rd minute) saw the direct red cards in front of themselves.
"TSK-Tavroya" (18 points) continues to leading in the standings after the eighth tour, "Yevpatoriya" is on the second place (17 points), "Sevastopol" holds third line (14 points), "Kyzyltash" (14 points) rose to fourth place, then goes "Krymteplitsa" (12), "Favorit-VD Kafa" (9), "Incomsport" (3) and "Ocean" (2 points).
The first matches of the quarter finals of the CFU Cup will be on next Wednesday, October 9. There will play: "Incomsport" – "Favorit-VD Kafa", "Ocean" – "Yevpatoriya", "Sevastopol" – "Kyzyltash" and "Krymteplitsa" – "Gvardeets".
And the matches of the 9th tour will be on Sunday, October 13. There will play: "Incomsport" – "Favorit-VD Kafa", "TSK-Tavriya" – "Krymteplitsa", "Yevpatoriya" – "Ocean" and "Sevastopol" – "Kyzyltash".