FC "TSK-Tavriya" (Simferopol) – FC "Favorit-VD Kafa" (Feodosiya) – 3:2. Protocols data
September 29, 2019 / 19:31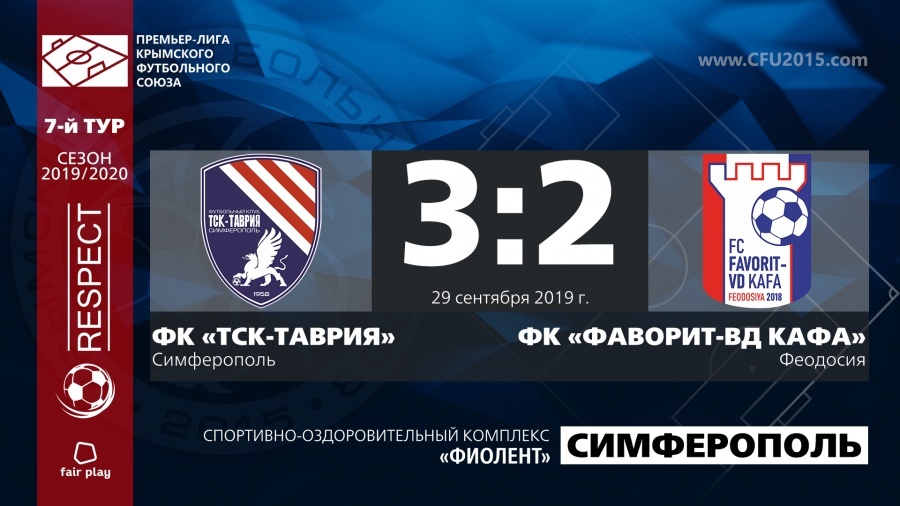 September 29, 2019. Simferopol. SHC "Fiolent". 500 supporters. Pitch quality – 4. Crimean football union Premier-League Championship (season 2019/20). 7th tour
FC "TSK-Tavriya" (Simferopol) – FC "Favorit-VD Kafa" (Feodosiya) – 3:2
FC "TSK-Tavriya": Aleksandr Shubin, Ildar Shabaev, Remzi Ramazanov, Anatoliy Puliaev, Arsen Abliametov, Anton Monakhov, Artur Aimetdinov, Evgeniy Odintsov (Denis Malyshev, 58; Aziz Guliev, 82), Boris Gogichaishvili (Stanislav Pechenkin, 90+1), Zakhar Tarasenko, Viacheslav Chadov (Andrei Gaidash, 70).
Head coach – Vladimir Martynov.
FC "Favorit-VD Kafa": Andrey Timofeev, Oleg Tolmasov, Nikita Bastron, Albert Gabaraev (Asan Muslimov, 89), Anton Kupchin, Vladimir Larionov, Konstantin Pavlov, Vladimir Esin (Mirtagi Azizov, 90+3), Aleksey Khrushchev, Igor Chembarov, Aleksey Kurzenev (Mikhail Rozhkov, 80).
Head coach – Iurii Getikov.
Goals: Ildar Shabaev, 19, 89, Anton Monakhov, 75 (scored from a penalty) – Vladimir Esin, 62, Aleksey Kurzenev, 63.
Yellow cards: Aleksey Khrushchev, 72, Albert Gabaraev, 75, Aleksey Kurzenev, 90 (out of the field).
Red card: Aleksey Khrushchev, 72.
Referee – Roman Shalverov (Pervomaiskoe).