"TSK-Tavriya" is out of the Crimean football union Cup series -2019/20 (PHOTO)
September 26, 2019 / 17:38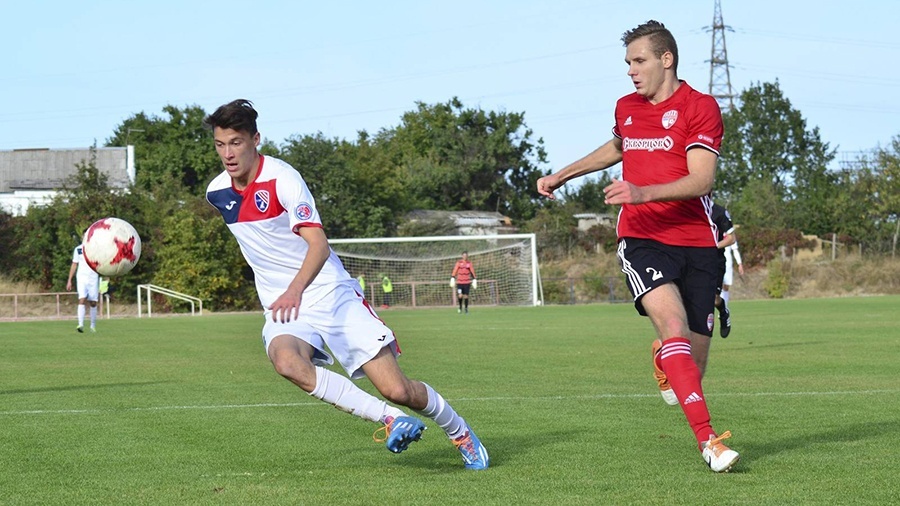 The matches of the 1/8 finale of the CFU Cup series -2019/20 were on the peninsular on September 25.
"Gvardeets", Skvortsovo from Open championship of Crimea minimally won from "TSK-Tavriya", Simferopol at own field. The supporters saw the single goal of this meeting in the 61st minute, when Andrey Zborovskiy masterfully made free kick – 1:0, "Gvardeets" wins.
"Triad-Monte", Simferopol lost to "Ocean", Kerch with the score 1:3 at own field. Oleg Pliev distinguished by hat trick in the line-up of the away team, scored in the 8th (penalty), 35th and 81st minutes. Vadim Grishin made a goal in his asset in the line-up of "Triad-Monte" (39th minute).
"Rubin Yalta" minimally lost to fellow countrymen from "Incomsport". The defender of "Incomsport" Vladimir Pshenichnikov brought the win to his team in the 75th minute – 1:0.
Stressful match was in Sevastopol, local "Chernomorets" hosted "Krymteplitsa", Molodezhnoe. Thanks to the hit of Igor Zubko the away team opened the score in the 14th minute. The football players of "Krymteplitsa" could to increase their advantage in the 61st minute, but Vladimir Sychevoi couldn't to convert penalty. And Nikita Bezklubiuk from Sevastopol wiped out a goal deficit 7 minutes before the end of the match time. "Krymteplitsa" managed to win in extra half. Sychevoi vindicated himself for unscored penalty in the 101st minute – "Krymteplitsa" wins 2:1.
And FC "Yevpatoriya" more than confident won from AFC "Uiutnoe" in nominally away game for itself. Six unanswered balls were in the goal of amateur team. Scored: Nikolay Khomich (5th minute), Amir Natkho (9th), Vladislav Semenov (13th), Vadim Pronkin (19th), Iaroslav Udin (26th) and Mikhail Mukhin (54th minute). 6:0 – "Yevpatoriya" wins.
Thus, 7 teams from the CFU Premier League championship will play in quarterfinals: "Yevpatoriya", "Krymteplitsa", "Incomsport", "Ocean", "Sevastopol", "Favorit-VD Kafa" and "Kyzyltash", and 1 club from Open championship of the Crimea – "Gvardeets".
The draw of the quarterfinal matches will be on next Friday, September 27.