Results of first leg quarter-finals matches of the CFU Cup season-2017/18
November 13, 2017 / 15:54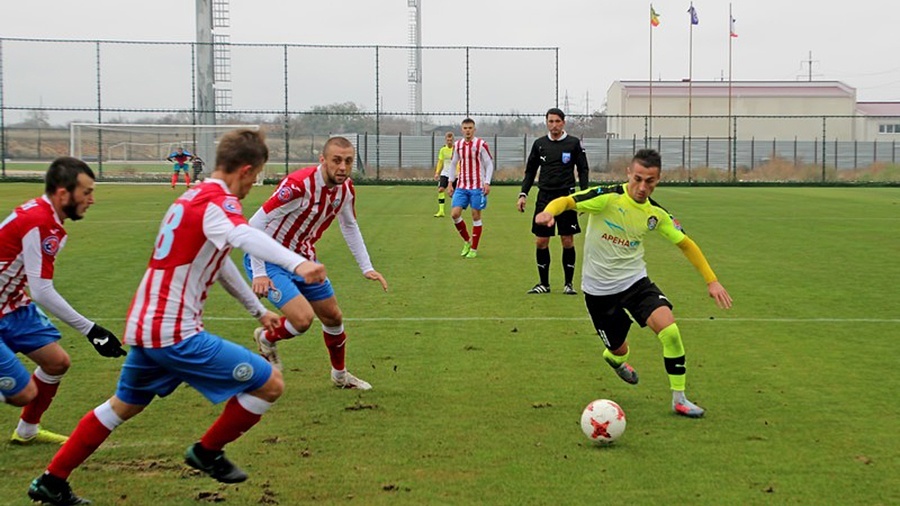 The first leg 1/4 finals games of the Crimean football union Cup season-2017/18 were held last weekend, November 11-12.
Molodezhnoe "Krymteplitsa" hosted Bakhchysaray "Kyzyltash" on its field on Saturday, November 11. Guests aheaded in the count first, opened the rival`s goal already in the 10th minute of the match: Aleksey Boiko made a well-placed shot on his asset. However, Igor Dudov restored balance on the 37th minute and "teplitsa" managed to finish the rival and snatch a victory at second half. Maksim Prikhodnoy brought the victory to "Krymteplitsa" by a classy kick from a box in the 78th minute – 2:1.
Three meetings were played on Sunday, November 12.
FC "Yevpatoriya" met with Kerch "Ocean" within native walls. Aleksander Borshch led "Yevpatoriya" forward in the 37th minute, and Evgeniy Kharchenko doubled the advantage of his team in the 82nd minute. Thus, Yevpatoriya achieved victory with the score 2:0.
"Rubin Yalta" sensationally won from Simferopol "TSK-Tavriya" in Novopavlovka Bakhchysaray district, and at that with more than a large score. Dmitriy Litvinov started to defeat "Tavriya" in the 7th minute. Three minutes later Dmitriy Belevitin doubled the superiority of Yalta team. The wards of mr. Sergey Lezhentsev hit the goal of the capital team twice at second half. Daniil Zuev brought to the devastating score in the 69th minute, and Sergey Dzodziev made finally assist at this match in the 73rd minute – 4:0, "Rubin Yalta" won and there are ghostly chances for "TSK-Tavriya" to pass to semi-finals stage of the CFU Cup.
And in Sevastopol, the local same name club hosted the only representative from the Crimea Open Championship – Dzhankoi "Spartak-MAIB". More skilled and experienced Sevastopol predictably achieved confident victory. Aleksandr Zhabokritskiy brought FC "Sevastopol" forward on the 9th minute of the match. He also made "double" after two minutes. Three goals went to the "Spartak-MAIB" net already at second half of the match. Andrey Kiva distinguish himself in the 49th minute, Evgeniy Prokopenko scored in the 56th minute, and Anton Golenkov set a final score of the game in the 82nd minute. As a result, 5:0 – the victory of FC "Sevastopol".
The return leg 1/4 finals matches of the CFU Cup will be held on November 22.
And duels of 12th tour of the CFU Premier-League Championship will take place on next Saturday, November 18. Will play: "Rubin Yalta" – "Kafa", "Yevpatoriya" – "Ocean", "TSK-Tavriya" – "Sevastopol" and "Krymteplitsa" – "Kyzyltash".