Enver Seidametov: "I value football players according to their killer instinct"
July 19, 2017 / 12:53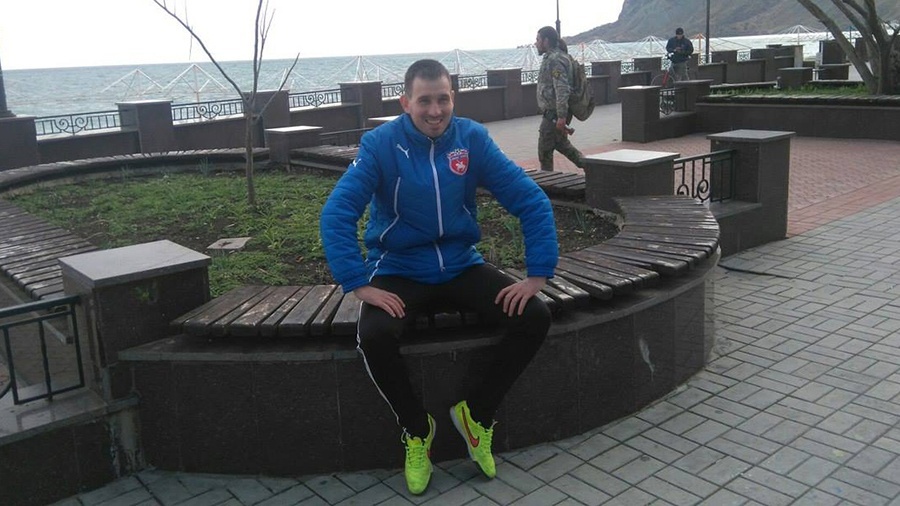 The press service of the Bakhchysaray's "Kyzyltash" presents the team's head coach Enver Seidametov.
- Our family moved from Uzbekistan in 1989 to the Crimea. My father is a USSR master of sports in boxing, coach. I used to boxing until 16 years old, I am a candidate master of sports. Because of hand injury I had put an end to boxing. I chose for myself another sports direction – football. It`s simple: our boxing team played often against the football players before that.
I played for different football teams in the Crimea, I was both a defender and a midfielder. I received a higher education at the age of 27 (faculty of physical education) and began to train children – at first in the Bakhchysaray district, then invited to the "Skif". Later I became acquainted with Albert Kurshutov the president of "Kyzyltash", who invited me to lead his team.
- Isn't it too early to hang the boots on the nail?
- I made a small progress as a football player, I hope, I will achieve success as a coach. Besides, it`s hard to get into a good team and maintain family at my age. I even occupied myself with attractions for a while – cars, bicycles, trampolines. Then appeared an opportunity to become coach. And I Liked it.
- Which famous players you want to resemble?
- All of them work in England now: Josep Guardiola (Manchester City), Jose Mourinho (Manchester United), Jurgen Klopp (Liverpool). One would do well to learn from each of these specialists. For example, Mourinho did not achieve anything as a football player, but came out as a coach and became one of the best. Guardiola completely changed the game of football. He introduced the concept of "tiqui-taca". As for Klopp, the German specialist has no equal in the organization of team pressure. I believe that the best trainers need to take the best.
- What club do you support? Who is cult figure among player for you?
- I like "Manchester United" and "Real" (Madrid) in world football. I started watch and play football thanks to Madrid. I remember very clearly "my" first World CUP. It was the 1998 Mundial in France. French became champions at that time. Zidane stood out mostly at that tournament. He impressed me with his game, leadership qualities, the manner of moving at field, the character.
Probably, that`s why he became my favorite player. Zidane moved to "Real" after the World Cup and thus to watch the games of the Royal Club a lot nicer. I started to watch the games of "Manchester United" after the victory of the "Red Devils" in the UEFA Champions League season-1998/99. Alexander Ferguson had gathered a very powerful team.
- What is the most important moment at your football career?
- Probably, when I came to play for the "Chernomorneftegaz". It was a very strong team at that time. It was my first club after boxing, where I received a salary. I did not know anyone in football at that time, I did not know the rank and name. Nevertheless, I was putting in the basic line up due to my character and diligence. It was nice that I played with the guys who had an experience of playing at the first league of Ukraine. It was the most memorable moment of my career.
- Is Enver Seidametov a strict coach?
- Enver Seidametov is trying to be a strict coach. Rather, demanding coach.
- What football will play your "Kyzyltash"?
- We do not have any incredible selection of players, first-class performers now. We will play hard and characteristic football. Perhaps, for us will not work out everything, but we will do everything so that the rival team has not success either. We will emphasize on the psychological attack.
- What extent is "Kyzyltash" ready for the season?
- I can't say anything, since we just started preparing for the season. The training session will show a lot. I think, one will make the first conclusions after several sparring.
- The perfect lineup from Enver Seidametov.
- I would have put Manuel Neuer between the posts. Four defenders – representatives of Juventus (a sample of last season) – Leonardo Bonucci, Giorgio Chiellini, Andrea Barzagli and Daniel Alves. I would entrust midfield players of Madrid "Real" – Luka Modric, Casimiro and Toni Kroos.
The attack line will follow the Spanish Premier also – Lionel Messi, Neymar and Cristiano Ronaldo. I would gladly invite all these players to "Kyzyltash" (smiling).
- What do you like besides football?
- Besides football, I`m taking a great interest in personal life (laughs). I`m 30 years old, I`m not married, so I spent all my free time on my girlfriend. And I love all kinds of sports – tennis, bowling, billiards, basketball, etc. Recently I learned to ride a gyroscooter for the first-shot.
- What films, music and food do you like?
- I like meat very much, in any shape or form. Basically it`s lamb. I watch everything except to musicals, mystics and horrors. I like fantasy, action films, spy movies. As for a music, I`m a music lover. I listen that pleases the hearing.
- What is the most valuable in life for you?
- Family, friends and work.
- Is Enver Seidametov different at home and at work?
- He is completely different. I`m administrator at work – strict, demanding. And I am executive son at home, who helps my parents in every possible way. My mother is hypertensive, my father works all the time. So I help them. In addition, I build my own house.
- What do you value most of all in a football player?
- Character. A player can't succeed everything, he can have a problem with speed or technique, but all this can be replaced by a fighting character.
- What is the ideal common formation in football?
- 4-3-3. Everything begins with this scheme. It can be transformed into any other formation and focus on attack or defense. In fact, it is universal one.
- What do you expect from the "Kyzyltash" debut at the CFU Premier-League Championship?
- Difficult question. Let`s hope for positive results. The task is serious, the plans are grandiose. Perhaps, we will not win immediately, but the game picture must be mandatory. Although I don`t exclude the other option, when there is no team playing, but the is result. It is hard to predict anything now. "Kyzyltash" should aim for at least be in the "five", and as a maximum – to qualify for prize-winning places.
- What is the major problem of the Crimean football in your opinion?
- Children`s and youth schools. So far we are marking time. There is no worthy rising generation, children who interested in becoming footballers. We need to educate your staff. Essentially, it concerns not only to the Crimea, but also to all countries of the post-Soviet space. Please remember when the representatives of the former USSR countries got into the finals of major tournaments for the last time? Also, it is necessary to solve an issues with infrastructure, so professional football would be open for everyone. As for the sanctions, I do not consider this problem critical. We have a boy, 2005 year of born, from in Bakhchisaray, he studies at the "Barcelona" academy. All those constraint does not stand in his way. The main things are will and aim.
- What would you change in "Kyzyltash"?
- So far, I do not want to change anything. We are just forming and learning something always. Ideally, I would like to make fewer mistakes.
Reference
Enver Seidametov. Born on July 20, 1986 in Fergana (Uzbekistan). Football career: FC "Sevastopol-2" (2007), "Spartak" (Bakhchysaray city, 2008), "Chernomorneftegaz" (Simferopol city, 2009), "Agrokapital" (Suvorovskoe, 2010), "Gurzuf" (2010-2011), "Lion" (Simferopol, 2011), "Foros" (Yalta city, 2012), "Region" (Krasnogvardeiskoe urban-type settlement, 2013), "Rubin" (Yalta, 2013- 2016), MSK "Yalta-Avangard" (2016-2017), "Kyzyltash" (Yalta, 2016-2017) Coaching career: Youth FC "Skif" (Simferopol, 2014), "Kyzyltash" (Bakhchisaray, 2017).