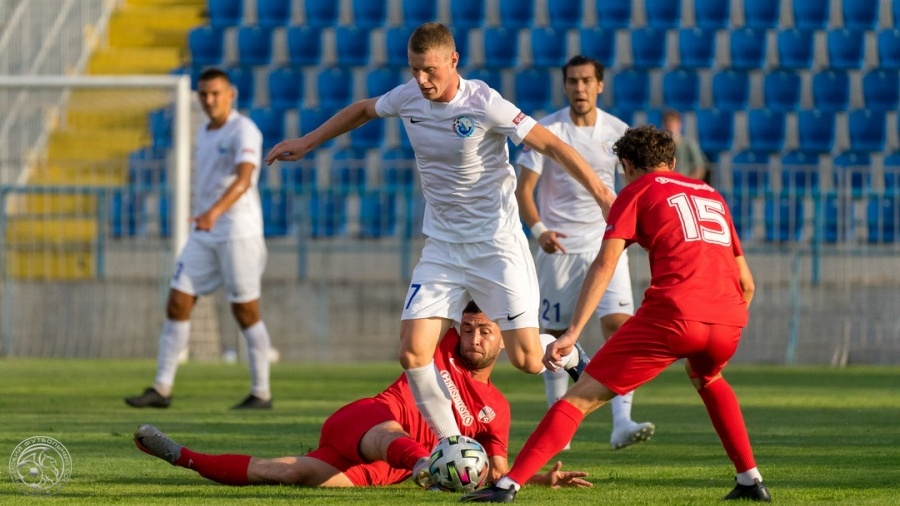 Фото: Крымский футбольный союз
The second round of the Crimean football union Premier League championship season -2021/22 starts with the matches of the 8th tour on next Sunday, October 17. The games will be in Alushta, Bakhchysaray district, Sevastopol and Kerch.
"Atuston-SCC", Alushta will host "TSK-Tavriya" on the field of Training center of athletic performance of Russian National teams "Krimskiy". These rivals couldn't to show the winner in the first round, the game ended with zero draw. Alushta is on the seventh place of the standings with 6 points after seven conducted games, and Simferopol holds second place, scored 15 points. The game "Aluston-SCC" – "TSK-Tavriya" starts at 14 o'clock. The referee of the match will be Aleksandr Kreshchik from Saky.
The game between "Rubin Yalta" and "Yevpatoriya" starts at 14 hours 30 minutes. This match will be in Novopavlovka, Bakhchysaray district on the field of sports center "Skif". Both rivals are in the bottom part of the standings: Yalta scored 4 points and is on the last place, and Yevpatoriya lost in four matches in a raw, went down to the fifth position. The duel "Rubin Yalta" – "Yevpatoriya" will conduct referee from Pervomaiskoe Roman Shalverov.
The central match of the tour starts at 15 o'clock, where FC "Sevastopol" on its field will host "Gvardeets" from Skvortsovo, Simferopol district. Sevastopol is single-headedly leading, scored 16 points, and "Gvardeets" locates on the third line, there are 12 points on its asset. The opposition "Sevastopol" – "Gvardeets" will be on the field of SHC "Sevastopol". Referee from Simferopol Aleksey Polianin will judge the teams. Let us note, that fans will be admitted to this match according to certificates of vaccination against COVID-19, or the corresponding QR codes.
The game between "Ocean", Kerch and "Kyzyltash", Bakhchysaray will start at 15 o'clock as well. These rivals met in return quarterfinal leg of the CFU Cup on last Wednesday. The winner wasn't shown in the mane match time – 0:0, and Bakhchysaray was luckier in the shootout series – 3:2. "Ocean" is on the sixth position after seven played matches, scores 7 points, and Bakhchysaray holds fourth place with 10 points. The match "Ocean" – "Kyzyltash" will be on the stadium n.a. 50th anniversary of October. The teams will be brought out to the field by referees' team led by Denis Shudrik from Simferopol.
All matches of the 8th tour of the CFU Premier League are scheduled to show in live broadcast on the official Crimean football union website.