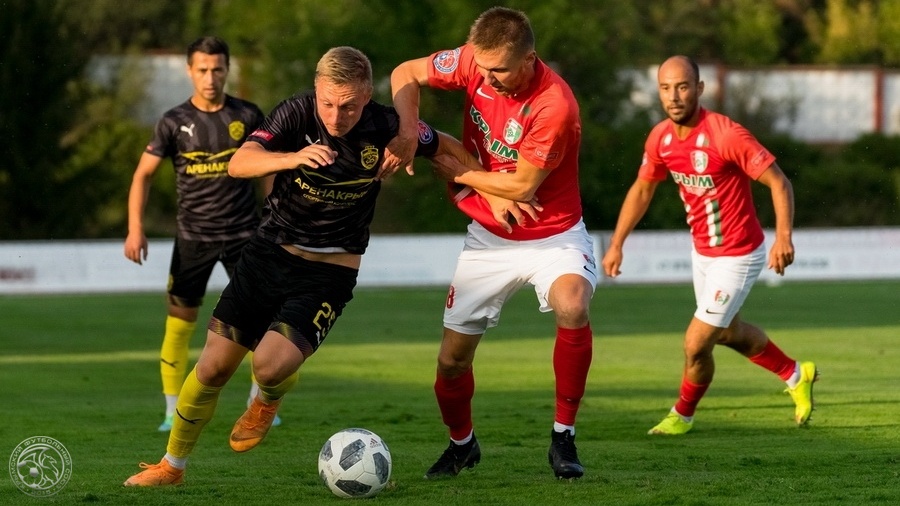 Фото: Крымский футбольный союз
The duels of the 7th tour of the Crimean football union Premier League championship, season- 2020/21 will be played on Wednesday, November 11. The games will be in Kerch, Bakhchysaray district and Yevpatoriya.
The seventh tour will be opened by match in Kerch, where local "Ocean" will play with "Gvardeets", Skvortsovo. Kerch lost to "Krymteplitsa" 1:4 at last tour in away game, and "Gvardeets" confidently won from "Kyzyltash" – 3:0 at own field. The club from Skvortsovo is in the leading group, held second place in the standings, and "Ocean" ia ahead the lower part of the standings, located on the fifth line. The game "Ocean" – "Gvardeets" starts at 14 o'clock. The referee of this match is appointed Iurii Volkov from Simferopol.
The opposition between "Kyzyltash", Bakhchysaray and FC "Sevastopol" will start at 14 hours 30 minutes. This meeting will be in Kuibyshevo urban-type settlement on the field of sports complex "Incomsport". The team from Sevastopol won from "TSK-Tavriya" 2:0 in last tour at own field and footholds on the third line in the standings. And Bakhchysaray is on the sixth place, scored 7 points. The match of the 7th tour "Kyzyltash" – "Sevastopol" will be conducted by referees' team led by Roman Shalverov from Pervomaiskoe.
Two more meetings of the 7th tour will start at 15 o'clock.
FC "Yevpatoriya" and "Krymteplitsa", Molodezhnoe will meet in the central tour. Yevpatoriya is on the fourth position, having on its asset 9 points and one extra game. And "Teplitsa" is single leading the standings, scored 15 points. The rivals met 16 times in the championship under the aegis of the CFU: "Yevpatoriya" has 8 wins, "Krymteplitsa" won 3 times, 5 meetings ended in a draw. The match "Yevpatoriya" – "Krymteplitsa" will be on the field of sports complex "Arena-Crimea". The teams will be judged by referee from Simferopol Oleg Lapishko.
"TSK-Tavriya", Simferopol and "Favorit-VD Kafa" will play in Novopavlovka, Bakhchysaray district. Both teams are closing the standings. Feodosiya is going on the penult seventh place, scored 4 points. And Simferopol didn't score the points in this season, closed the standings. If "Tavriya" manage to score its first points in the championship, we will know soon. The match "TSC-Tavriya" – "Favorit-VD Kafa" will be on the field of sports center "Skif". The teams will be brought out to the field referees' team led by Aleksandr Kreshchik from Saky.
All matches of the 7th tour of the CFU Premier League are scheduled to show in live broadcast on the official Crimean football union website.